Current Activity Updates
2013 2012 2011 2010 2009 2008 2007 2006 2005
November 19, 2014
TransCanada hired world's largest PR firm to target Council of Canadians' Energy East campaign
This Media Release was issued by the Council of Canadians on November 17, 2014
Ottawa - Today, Greenpeace released documents revealing that the Council of Canadians was one of the first groups targeted for U.S.-style opposition research by TransCanada's public relations firm, Edelman. Edelman is the largest PR firm in the world with links to the Tea Party and Walmart.
The document says that Edelman will "prepare a research profile of key opposition groups by examining public records (including financial disclosures, legal databases and legislative records), traditional media sources and social media. All relevant findings will be compiled in a written, fully documented report, to include a summary of findings and assessment of strengths and weaknesses.... We will begin with the Council of Canadians." (p. 7 of Energy East Campaign Organization)
Edelman's Mike Krempasky is listed as the senior Counsel "responsible for the overall strategic direction and directly responsible for the success of the campaign." Krempasky had to apologize for his Walmart campaign that used fake grassroots bloggers. Krempasky co-founded Redstate.com, has promoted online opportunities for Tea Party activists and has assisted right-wing blogs to adopt social media techniques boosting the Tea Party. Edelman has a history of recruiting third parties to smear its clients' critics, including for the tobacco industry and the American Petroleum Institute.
"TransCanada likes to sell this as a nation-building project. This isn't how you build a nation," says Maude Barlow, chair of the Council of Canadians. "These Tea Party tactics are not welcome in Canada. We are open to a debate, and have nothing to hide. But we do not accept these smear tactics. We truly believe this export pipeline is all risk and little reward for Canadians."
"They have hired the world's largest PR firm because opposition to Energy East is growing," says Andrea Harden, the Council of Canadians' Energy and Climate Justice Campaigner. "From overflowing town halls to provincial reviews and increasingly critical municipal and First Nation leaders, TransCanada is losing public support despite their heavy-handed advertising and desperate tactics."
"These tactics are as dirty as the oil the pipeline would transport," concludes Mark Calzavara, Ontario, Quebec and Nunavut regional organizer with the Council of Canadians. "Filling Energy East would mean the climate pollution equivalent to adding 7 million cars to our roads. It threatens over 1000 waterways along the route with a devastating diluted bitumen spill."
-read the entire media release
---
November 18, 2014
Public Statement About The Human Rights Violations In Iguala And Tlatlaya, Mexico
To the federal, regional, and local political authorities of Mexico
We are profoundly distressed by the events that recently took place in Mexico. On June 30, 2014, 22 people were killed in Tlatlaya, state of Mexico; 15 of them were executed by the Army, which is now being prosecuted. On September 26 and 27, 2014, a massacre occurred in Iguala, Guerrero. It involved members of the municipal police and non-identified armed men, which, according to surviving witnesses, are part of a group called "Guerreros Unidos". These incidents caused the death of six persons, three of which were students from Ayotzinapa's rural school Raúl Isidro Burgos. Since then, 43 students, who were detained by the police, are missing. The mayor of Iguala has been accused of masterminding the massacre. Moreover, the governor of the state of Guerrero has resigned following allegations of complicity in the mayor's criminal activities. According to witnesses, the Army would also be involved.
The crimes of Ayotzinapa and Tlatlaya are not isolated events; on the contrary, they add up to the series of violations of human rights taking place in the country. Since 2006, more than 90,000 deaths have been registered, more than 25,000 people are missing, and more than 250,000 people have been internally displaced. These numbers could be higher, depending on the sources. All these violations of human rights are caused by the said war against drug cartels started by Felipe Calderón's government, a war which has been adopted as the central security strategy of Enrique Peña Nieto's government. This war against narco-trafficking has been denounced by human rights organizations as constituting strategies of criminalization and repression used by the state.
In this context of repression and criminalization of popular mobilization, the State undermines public education, particularly the rural normal schools. The objective of such schools is the training of teachers for the most disadvantaged zones of the country. However, they have been struggling for 40 years to ensure their survival against state actions seeking their dissolution. The Mexican State's repression towards the normal schools has been systematic and constant, notably in the states of Guerrero, Oaxaca and Chiapas, where poverty levels are the highest of the country. We stand in solidarity with the normal rural schools, recognized as places where social mobilization and protest has historically emerged.
These crimes undermine the right to protest and suppress all forms of political opposition and free expression. This systematic and violent repression threatens the human rights of all Mexicans, and particularly of those sections of the population most vulnerable. We condemn categorically the arbitrary use of force by the government and its collusion with organized crime.
We consider that these events are unacceptable and extremely serious, this is why we demand the relevant organizations of the Mexican government to:
Conduct the investigations and research activities necessary to find the 43 missing students in a fully transparent manner considering that the results have been unsatisfactory until now.
Conduct a rapid, effective, and independent investigation relating to the events of June 30, 2014 in Tlatlaya and of September 26 and 27, 2014 in Iguala.
Initiate administrative and judicial proceedings against state and federal authorities that have failed in their duty to prevent these serious human rights violations, in order to make them accountable before the courts.
Ensure the security and integrity of the students and witnesses who denounced the events as well as protect human rights defenders who are supporting the students of the Normal School of Ayotzinapa. This must be done in accordance with the provisions of the UN Declaration on the Right and Responsibility of Individuals, Groups and Organs of Society to Promote and Protect Universally Recognized Human Rights and Fundamental Freedoms.
Put an end to the systematic persecution of dissident voices and all forms of protest and political mobilization.
We wish to be informed of the actions that you will undertake to establish the legal liability regarding these events. The crimes of Ayotzinapa and Tlatlaya are crimes against humanity, as has been denounced by different human rights organizations in Mexico, among which the Human Rights Center Miguel Augustín Pro Juárez A.C. (Prodh Center) and Amnesty International.
¡Vivos se los llevaron y vivos los queremos!
Alive they were taken, alive we want them back!
Association des juristes progressistes
Association québécoise des organismes de coopération internationale (AQOCI)
Bloc d'artistes du CTI (Centre des Travailleurs et Travailleuses Immigrantes à Montréal)
Chaire Nycole Turmel sur les espaces publics et les innovations politiques, UQAM
Coalition québécoise sur les impacts socio-environnementaux des transnationales en Amérique latine (QUISETAL)
Comité pour les droits humains en Amérique latine (CDHAL)
Comité régional d'éducation pour le développement international de Lanaudière (CRÉDIL)
Common Frontiers
Confédération des syndicats nationaux - CSN
Costureras de sueños-Teatro independiente
Diversitas Coop
Femmes de diverses origines
Groupe d'entraide internationale Spirale (Conseil d'Administration)
Horizons of Friendship
Iglesia Unida de Canadá – Ministerios en francés
Illusion Emploi
Institut Polaris
InterPares
L'Entraide missionnaire
Mexicanxs unidxs por la regularización
MigrantWorkersRights/DroitsTravailleursMigrants
Mining Watch Canada
Mouvement contre le viol et l'inceste (MCVI)
Projet Accompagnement Solidarité Colombie (PASC)
Relations publiques sans frontières
Rencontre Interculturelle des Familles de l'Estrie
SalvAide Canadá
Syndicat québécois des employés et employées de service (SQEES 298)
Syndicat des employé-e-s professionnel-le-s et de bureau (SEPPB Québec)
Syndicat des Métallos
Unifor Québec
Union des employé(e)s de service (UES 800)
United Steelworkers
-Download statement as a PDF in English en français en Español
---
November 17, 2014
Land to be Usurped and Votes to Be Bought: The Pre-Election Honduran Landscape
By Andalusia Knoll, Truthout
(This article originally appeared one year ago, on the eve of Hondura's presidential elections)
"When was the last time I was threatened?" asks Alfredo Lopez, repeating my question. He laughs and then responds, "Today, yesterday, the day before, everyday. They tell me they want to mess me up."
Lopez is the vice president of the Honduran Black Fraternal Organization (OFRANEH) and speaks with such a jovial tone that you wouldn't guess that he's talking about pre-election violence in Honduras. We're in the Afro-Indigenous Garífuna town of Triunfo de la Cruz in the northern coast of Honduras. The first true presidential elections, since the 2009 coup that ousted president Mel Zelaya, are just days away.
Lopez is the host of the Notibimetu show on the Faluma Bimetu (Sweet Coconut) FM radio station. We accompany him to his afternoon program where he plays traditional Garifuna music, coupled with local and international news focused on land struggles of indigenous communities. The station has been a stalwart of "La Resistencía," the resistance movement birthed in the aftermath of the 2009 coup d'etat.
His phone rings various times during the program, but he doesn't answer, citing it as another example of people trying to disrupt his activities. Lopez and OFRANEH have been involved in a long battle to protect their fertile coastal collective land from international investors attempting to turn these pristine coasts into a Honduran Cancun.
Repression of their movement to defend their land has increased in the pre-election season, but it is hardly something new to their community. Lopez himself served six years in jail for false drug charges. He was later released, vindicated of all charges and granted a retribution payment. In 2009, Faluma Betu was burned down by arsonists assumed to be linked to the coup government. The community's resilience allowed them to reconstruct the station. A month later, they were back on the air, transmitting at double the station's prior wattage.
---
November 5, 2014
Canadian Imperialism:
The History of the Extractive Industry in Colombia
Nov 27, 2014 - 3-5pm
280N York Lanes Building
York University, Toronto, ON
-Click image for a larger view
---
November 3, 2014
Latin American Human Rights Defenders on the Impact of U.S. Security Policy in Central America
Published on Oct 30, 2014
Sponsored by the Center for Economic and Policy Research, JASS, the Guatemala Human Rights Commission, CISPES, and CIP-Americas
Hosted by The Office of Representative Hank Johnson
In early June, an unprecedented influx of child migrants fleeing violence in their communities led to a humanitarian emergency along our southern border. Late last month, 43 students in the western Mexican state of Guerrero disappeared after being detained by local police. Though the U.S. has provided hundreds of millions of dollars of assistance to security forces in Mexico and Central America, violence continues to rage in these countries, and - all too often - police and military agents from these countries appear to be a part of the problem.
While some policy makers and political leaders are calling for a Central American "Plan Colombia" to address drug-trafficking and rampant violent crime, human rights groups consider that heavy-handed and militarized enforcement methods, similar to those deployed under Plan Colombia, are making the situation worse.
This panel of leading human rights defenders from Mexico, Guatemala, Honduras and Colombia will discuss the ongoing violence taking place in their countries and offer their perspectives on the impact of current U.S. security policy in the region.
Panelists:
Maria Luisa Aguilar is the Advocacy Coordinator at Tlachinollan, a Mexican human rights group currently accompanying the families of the 43 students who were detained by the police and are still disappeared.
Alberto Yepes is the coordinator of the Observatory of Human Rights and Humanitarian Law, Colombia-Europe-U.S. Coordination.
Iduvina Hernández Batres is a Guatemalan journalist and the Executive Director of SEDEM, an organization that promotes democratic controls over citizen security.
Bertha Oliva is the founder and coordinator of the Committee of Relatives of the Disappeared in Honduras.
Moderator:
Kathryn Johnson, Guatemala Human Rights Commission
---
October 30, 2014
From Honduras to Venezuela:
Social movements in resistance
CF Program Director Raul Burbano will be in Buffalo the last week of November. All are welcome. (click on the poster for a larger view)
From Honduras to Venezuela:
Social movements in resistance

Who: Latin American Solidarity Committee

When: Nov. 24, 2014
Time: 7-9 pm

Where: Canisius College – Science Hall
1272 Delaware Ave. Buffalo N.Y

---
October 29, 2014
International Network of People Affected by Vale: New Forms of Resistance to Global Mining Corporations
Thursday, November 6, 2014
York University, Kaneff Tower - Room 902
2:30 – 4:30 pm
All are welcome!
Since the 1980s, Brazilian mining giant Vale has operated an 890 km railway carrying unprocessed ore from rich iron mines in Carajas to a port in Såo Luis for export to global markets. As many as 26 trains a day cuts through indigenous, ex-slave and traditional communities. The current plan to double the railway is proceeding with as little community consultation and compensation as the original line.
A regional network called Justice on the Rails used the World Social Forum in 2009 as a platform to publicize the megaproject's destructive effects. In 2010, this network joined other Brazilian organizations in calling for a first international meeting of people affected by Vale, among them Canadian Steelworkers from Vale's newly acquired Inco operations.
What are the current challenges in resisting the logic and the destructiveness of extractivism and its giant players like Vale? How effective are these new forms of globalization from below such as the International Network of People Affected by Vale?
Presenters:
Danilo Chammas is a lawyer who has been active in Justice on the Rails since
its beginnings. He built connections with mining activists in Canada during post-graduate studies in Ottawa. He has represented the network in discussions with shareholders at Vale AGMs and was one of those identified by a Vale whistleblower in 2013 as having been a target of Vale spying
Dr. Judith Marshall is an educator and activist.
During her years in the global affairs department of the United Steelworkers
union, she was actively involved in building the network of People Affected
by Vale. This included organizing several trinational exchanges involving activists from Mozambique, Canada, and Brazil
Moderator: Shin Imai, Osgoode Hall, York University

---
October 9, 2014
Over 100 civil society organizations on both sides of the Atlantic line up to oppose CETA
European Day of Action planned for October 1 in many cities
Civil society, trade unions, farmers and grassroots activist groups from all over Europe have called for a Day of Action on the 11th October 2014 to stop the ongoing free trade negotiations, including the Canada European Trade Agreement (CETA).
- visit the Day of Action page for details
Over 100 civil society organizations, including Common Frontiers, have signed a declaration opposing the Canada-European free trade agreement, which was recently signed in Ottawa. The groups are opposed because:
The CETA is an assault on democracy
The CETA will limit the regulatory powers of States and give corporations a right to challenge future legislation and regulations
The CETA will protect corporations more than workers
The CETA will limit the role of States and regional development
-read the full text of the Declaration en français auf Deutsch en Español

---
October 7, 2014
Harper ramps up his war on independent thought
By Linda McQuaig
Canadian Dimension
In the conservative quest to shape public debate in recent years, no tool has proved more useful than the think tank. Nobody understood this better than the director of the ultra-right wing U.S.-based ATLAS Foundation, who once stated that his mission was "to litter the world with free-market think tanks."
Mission accomplished. Certainly the Canadian landscape is cluttered with right-wing think tanks — the Fraser Institute, the C.D. Howe Institute, the Montreal Economic Institute, the Atlantic Institute for Market Studies, the Frontier Institute, just to name a few — all well-funded by a business elite keen to have its message packaged in a manner that makes it appear grounded in serious research.
These right-wing policy shops have played a huge role in implanting an ideology that treats the rich as 'wealth creators' who must be freed from government regulation — and whose goodwill must be constantly cultivated, lest they be discouraged from investing. This has boiled down to a simple message — government bad, private sector good — that has become the mantra of our times, the guiding force in shaping public policy.
To the extent that anything manages to poke holes in this prevailing ideology, it usually comes out of the Canadian Centre for Policy Alternatives (CCPA), the Ottawa-based think tank routinely described in the media as "left-wing" — even though corporate-funded think tanks are generally spared the label "right-wing."
Of course, we're all familiar now with how Stephen Harper suppresses information that contradicts his agenda: blocking the collection of statistics, muzzling government scientists, auditing charities that critique his policies. And yet, somehow the news that the Harper government is conducting a harassing audit on the CCPA manages to break fresh ground.
This time there's no recourse to the pretence that the audit was random. A Canada Revenue Agency document, obtained through Access to Information, makes it clear that the organization is being audited because its research and educational materials were considered "biased" and "one-sided."
As a result, the CCPA has been subjected to an exhaustive audit that already has lasted eleven months, with no end in sight. The tax department demanded copies of literally everything produced by the organization, carting away enough material to fill a small boardroom. The audit is far more intrusive than two previous, routine audits conducted in the pre-Harper era, according to CCPA executive director Bruce Campbell.
-read the rest of this article from Canadian Dimension

---
October 2, 2014
Common Threads VI: An uncommon experience
The Ontario Secondary School Teachers' Federation (OSSTF/FEESO) has announced the launch of its sixth Common Threads project: The Sustainable Society. An excerpt from the announcement:
This past summer the project team of six Ontario secondary educators traveled to two uniquely different countries to investigate the interconnected relationships between people, planet, and profit. They met with numerous diverse stakeholders, immersed themselves in local culture, and had many unforgettable experiences.

Common Threads is OSSTF/FEESO's international solidarity program which offers members the opportunity to travel abroad and conduct research resulting in the creation of new progressive curriculum on critical issues.
The interdisciplinary Common Threads The Sustainable Society curriculum package will be available to teachers in the 2015–16 school year. In the meantime, you are encouraged to enhance your teaching program with any of our five previous Common Threads curriculum resources, available at: osstf.on.ca/commonthreads.
---
September 12, 2014
Extractive Industry and Indigenous People
In this video the European Parliament receives a report on a study on extractivism and indigenous people.

---
September 12, 2014
The Good Jobs Summit is coming Oct 3-5
We've been busy getting ready for the Good Jobs Summit. And there are some exciting developments.

The working schedule is up – and continues to be updated! We'll be confirming great new speakers for the rest of August.

AND ... you can now register online for the Summit. If you've been waiting for a good time to register, that time is now. Registration is free.

If you haven't had a chance yet, be sure to stop by the conversation area – the question changes every month. It's a great chance to tell us your ideas about what a 'good job' means to you. You can also share your ideas on our facebook page.
The Good Jobs Summit is a national dialogue between workers, students, governments, employers and community organizations, with the goal of finding solutions and new approaches to jobs and the economy.

-visit the website for more details
---
September 12, 2014
Canada failed to act after Rana Plaza collapse
Opinion by CLC President Hassan Yussuff
Published in the Ottawa Citizen
When the Rana Plaza building, an eight story factory complex in the capital of Bangladesh, collapsed on April 24, 2013, more than 1,100 garment workers were killed and approximately 2,500 others were seriously injured. At the time, media analysts around the world declared the disaster a wake-up call for clothing retailers and brands that had flocked to the country for its bargain-basement labour costs.
Since that time, Canada's unions have been working with Bangladeshi garment workers and their labour movement to improve working conditions, with a goal of giving workers in those factories the same basic rights most Canadians take for granted – the right to a safe workplace and the right to bargain with their employers for better working conditions, wages and fair treatment.
But almost a year and a half since one of the worst industrial disasters in history, Canada's retailers are still sitting on their hands. They haven't woken up to their responsibilities to the workers who make their clothes for pitifully low wages in unsafe conditions.
Internationally, major apparel companies have stepped forward and contributed to a relief fund, the Rana Plaza Donors Trust Fund, which was established to provide long-term compensation for lost income and ongoing medical costs to the families of workers who were killed or who suffered debilitating injuries from the collapse of their workplace. To their credit, some of these companies had no connection to the factories in the Rana Plaza building, but have given because they recognize the shared responsibility of all companies sourcing from Bangladesh for the hazardous working conditions that are endemic to the country's garment export industry.
-read the full article in the Ottawa Citizen
---
September 11, 2014
North-South Institute Ends with a Whimper
The pain and suffering of the North-South Institute is over. After almost 40 years of high-quality, award-winning work, the NSI has capitulated to its Canadian government tormenters and is shutting down. The official communiqué announcing the decision said that the Institute "has not been successful in diversifying and growing its funding sources to the extent required to ensure financially sustainable operations."
This is polite shorthand for what really happened. The NSI depended for most of its history on core funding from the erstwhile CIDA. The Harper government has made it clear that it doesn't like "talk shops" and "think tanks"—at least not this one—and it seems that where international development is concerned, it doesn't much like thinking at all. So the NSI, along with many other very worthy non-profits and charitable organizations, was jollied along on hope and half-promises until the respirator simply gave up the ghost.
The Harper government has said, and will no doubt say again in this connection, that it is under no obligation to fund anyone it doesn't want to fund. That's true: no obligation. But it does have a responsibility to recognize and support achievement and merit in this field, as it does with Canadian scientists, educators, historians, artists, athletes and the institutions that house them. The NSI filled a unique position in Canadian international development. It provided good scholarship, wise advice and a useful service to government and the wider Canadian development community. It was also highly respected internationally and among its counterparts in Britain the United States and Europe, most of which receive considered, but generous support from their governments.
---
September 10, 2014
Media Release
Groups demand that Canadian mining company drop suit against El Salvador to start on its independence day
Toronto – Today, dozens of organizations from Canada, El Salvador and around the world will confront Canadian-Australian mining company Oceana Gold, whose subsidiary is suing El Salvador for $301 million (USD). El Salvador's offence: refusing to a grant a permit to a gold mine that would contaminate 60 per cent of the population's drinking water.
In October 2013, Oceana Gold acquired Canadian-based Pacific Rim Mining, which was in the midst of a lawsuit. After acquiring the company, Oceana Gold upped its lawsuit from $70 million to $301 million (USD).
In anticipation of next week's court case – to be heard on Monday, September 15 at the International Centre for the Settlement of Investment Disputes in Washington, D.C. – the Council of Canadians, the Latin American Solidarity Network, the Mining Injustice Solidarity Network and others will descend on the company's Toronto headquarters to present a letter from people affected by the decision. The letter demands that the company withdraw the lawsuit.
The date of the court case, September 15, coincides with El Salvador's Independence Day, an irony that was not lost on the groups protesting.
"We are asking the company, particularly on the eve of the country's independence day, to give the Salvadoran people their rightful control over their own environment and resources," says Maude Barlow, national chairperson of the Council of Canadians. "We have to hold our fellow Canadians accountable for jeopardizing El Salvador's democracy and its environment. The source of life, water is non-negotiable. El Salvador is just doing what any responsible country would do."
In El Salvador, people have died or lost their drinking water sources because of gold mining, contributing to a rising tide against mining. In 2008, the El Salvador government introduced a de facto moratorium on large-scale mining maintained by President Salvador Sánchez Cerén. Public opinion has categorically opposed industrial mining in El Salvador given the negative impacts of proposed projects on an environmentally stressed country largely dependent on a single watershed.
"It is a rare instance of a national, non-partisan, widely held consensus," says Xenia Marroquin, from El Salvador's Foro del Agua. "The stakes are high for the people of El Salvador. Beyond the financial costs, the ruling will determine whether a foreign tribunal can overrule a democratically elected government and its policies that protect the public interest and the environment."
"Oceana Gold is suing for the right to poison the water in a situation where 90 per cent of the water is already contaminated," added Raul Burbano, Program Director at Common Frontiers.
Who:
· Maude Barlow, The Council of Canadians
· Xenia Marroquin, Foro del Agua a ASPRODE, El Salvador
· Mary Ann Manahan, Focus on the Global South, Philippines
· Musical performance by Ruben Esguerra
Where:
Oceana Gold Toronto office
Suite 2100, Scotia Plaza
40 King Street West
Toronto, ON
When: 12:00 p.m. to 1:30 p.m.
---
September 5, 2014
International Human Rights Organizations Denounce the Violations of the Rights of Chavelo Morales
This letter was originally sent March 20, 2014. To date, there has been no response
John Kerry, U.S. Secretary of State
Julie Ciccarone, Mission Director, USAID Honduras
Amanda Johnson Miller, Human Rights Officer, US Embassy, Honduras
Juan Orlando Hernandez, President, Honduras
Rigoberto Chang Castillo, El Ministerio de Derechos Humanos, Justicia, Gobernabilidad y Descentralización, Honduras
Abogado Jorge Alberto Revira Avilés, Magistrado Presidente de la Corte Suprema de Justicia, Honduras
Ramón Antonio Sabillón Pineda, Director de la Policía Nacional de Honduras
Óscar Fernando Chinchilla Banegas, Fiscal General, Honduras
Dear Sirs and Madams,
The attached letter, signed by 56 human rights and social justice organizations, is motivated by the denial of justice, once again, to José Isabel Morales Lopez. It is a denunciation of the February judicial proceedings and actions of:
The Public Prosecutor, Jose Reynaldo Canales, from the Ministerio Publico in Trujillo, Colon, Honduras who exhibited prosecutorial misconduct and manipulation of the court
The Judges of the Tribunal of Trujillo and La Ceiba: Carol Jaqueline Ortega, Luis Alberto Juárez, and Ricardo Geovany Rodríguez, all of whom exhibited judicial misconduct during the course of a trial
The Judges from the Court of Appeals in La Ceiba: Dilia Iracema Guillén, Garin Enoc Urquía y Rubenia Esperanza Galeano, all of whom, together with the above named judges, violated orders from the Supreme Court of Honduras
And finally, the Sub-Commissioner of the National Police in the Department of Olancho, Henry Osorto Canales who perjured himself in court with impunity as well as having a history of intimidation, threats and abuse of authority as a member of the National Police.
As human rights defenders, we are outraged by these abuses of authority of the aforementioned members of the justice system of Honduras, and the environment of impunity in which they are able to operate in violating the rights of Jose Isabel Morales Lopez, a peasant farmer from the Aguán region of Northern Honduras and a recognized political prisoner by Human Rights organizations around the world.
We call for the immediate liberty of José Isabel Morales Lopez. We demand a full investigation into the human rights violations and judicial irregularities surrounding the trial as well as the threats and intimidation against the family and community. We further demand that all police, military and security aid be cut until human rights violations end, specifically the continued aid by the United States to the National Police and USAID funding to the Ministerio Publico given the ongoing abuses being perpetrated.
---
August 29, 2014
What next for Take Back the CLC?
By David Bush

The Peoples' Social Forum that took place last week had a large labour presence among the thousands who attended. There were numerous – too many to count- workshops, panels and larger assemblies that dealt directly with issues confronting the labour movement.
Hassan Husseini (left) and Hassan Yussuff at the CLC Convention in May 2014
The labour movement assembly was organized by the Take Back the CLC campaign that built Hassan Husseini's presidential bid at the Canadian Labour Congress convention in May. The assembly started by getting participants to write down their names, location, contact information and affiliations and placing it on a giant map in the front of the room. This mapping exercise was useful to visualize the geography of those in the room, and to allow people to connect who live in the same city. Most were from Ontario and Quebec, but there were large contingents from BC, Nova Scotia and a contingent from Winnipeg.
This exercise was followed by five speakers: Hassan Husseini fro Take Back the CLC, Jean-Claude Parrot former president of CUPW, Penny Bertrand an activist who worked on Carol Wall's 2005 bid for CLC president, Kyle Buott president of the Halifax-Dartmouth District Labour Council, and Janice Folk-Dawson of the Guelph Labour Council.
---
August 20, 2014

People's Social Forum begins August 21st
By Carmel KilkennRCI
Radio Canada International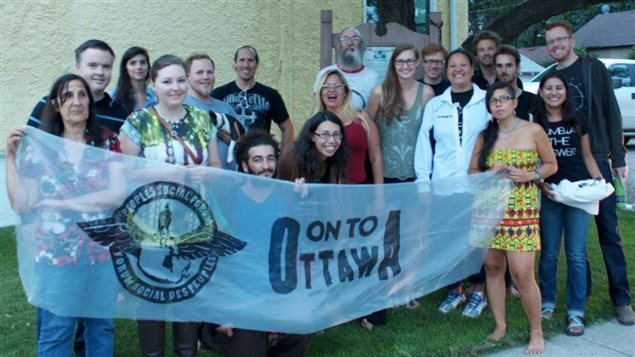 The People's Social Forum gets under way this week in Ottawa and across the river, in Gatineau, Quebec. It is the first national event to bring together groups of First Nations, labour groups, students, Canadian NGO's and many other interested people.
"Seeing the impact collective action can have"
Raul Burbano, of Common Frontiers, is the program director. He describes the forum as an event organized by the people, for the people. He says it has been three years in the making and it follows the World Social Forum movement.
Originally conceived as a counter-summit to the Word Economic Summit in Davos, Switzerland, the idea behind the World Social Fourm was to unite and strategize instead of protesting the Davos summit.
Caravans of buses are now on their way to Ottawa. Today the contingent from Vancouver is in Winnipeg. They will be converging in Ottawa for a major march on Thursday.
"Weaving together the struggles"
Raul Burbano says the four-day event is organized under 17 topics, with a festival of cultural activities taking place in tandem. There is even a Children's Social Forum, with a view to including the citizen's of the future.
The original framework for this event was a Quebec-Canada-Indigenous people approach, however, with the evolution of several national issues the gathering has now evolved into one that includes people of colour, who made it known they do not feel part of the former tripartate paradigm.
Food sovereignty, the environment, deregulation and the privatization of services, the criminalization of dissent as well as attacks on organized labour, are among the 17 topics that will be discussed by big names such as author and activist, Naomi Klein, Canadian Labour Congress president, Hassan Yussuf, and Gabriel Nadeau-Dubois, one of the student-leaders of Quebec's 2012 protests.
There is also growing concern over the restrictive, and what many see as racist immigration policies of the Harper government.
Participants will be looking at alternatives to the current capitalist model, envisioning a post-capitalist society, Raul Burbano says he first became involved in these social movements in Latin Amerca, and he says he is motivated by having seen "the impact collective action can have."
-Listen to the interview with Raul Burbano
---
August 14, 2014

Peoples' Social Forum Will Challenge Status Quo
Toronto, ON - Thousands of activists and scholars from coast to coast will be gathering in Ottawa-Gatineau from August 20 to 24 for the Peoples' Social Forum. The four-day gathering – the first in Canada's history – will bring together representatives from labour, First Nations, environmental and peace organizations, and various communities and activists from across Canada to share information and strategize towards a new course for the county.
The first World Social Forum took place in Brazil in 2001 as an alternative to the World Economic Forum where political and business leaders meet to discuss economic issues.
"The World Social Forum created a space for activists to share knowledge and put forward alternative ideas that would transform society and eliminate inequality. In Latin America, Social Forums have strengthened social movements across the continent that are challenging the capitalist model and have led to the re-founding of nations based on the principles of equality, reciprocity, harmony and solidarity – Raul Burbano, (Organizer of Peoples' Social Forum in Canada)
This year will mark the first time that Canada will hold a country-wide Social Forum.
"The Peoples Social Forum represents a watershed moment for social justice movements. In bringing thousands of activists together, the Forum will provide a crucial space for developing new solidarities, for re-energizing our movements and for clarifying our visions of a better society." - David McNally (Professor of Political Science, York University)
The Forum will be hosted at the University of Ottawa and will feature over 500 workshops and many prominent representatives of civil society, including author and journalist Naomi Klein, activist Gabriel Nadeau-Dubois, many Indigenous chiefs and representatives from Canadian unions.
The Peoples' Social Forum will also be a festive one, with various exhibits, alternative media fair, film screenings, a mass critical protest, a Pow Wow, art, street performances and concerts.
More information at peoplessocialforum.org
---
August 9, 2014
The Gargoyle: Tories warn "Everything we've fought for is at risk" as radical unions declare war
By Glen McGregor
Ottawa Citizen

Fresh off a splenetic attack against Justin Trudeau over his terrorism-loving ways, the Conservatives' fundraising campaign now turns to another enemy of the state: Big Union Bosses™, specifically Sid Ryan of the Ontario Federation of Labour, whom some on the right blame for tipping the scales against the Tim Hudak Progressive Conservatives in the last provincial run-off.
Today's missive from Democratic Reform Minister Pierre Poilievre warns that unions are going to interject themselves in next year's federal election to advance their "radical union agenda."
This, to Poilievre, is tantamount to a declaration of war. Five dollars, please!
From: Pierre Poilievre <info@conservative.ca>
Date: Fri, Aug 8, 2014 at 2:06 PM
Subject: Sid Ryan declares war
To: [removed]

[Conservative Party of Canada logo]

Friend,

I'll be blunt – the stakes have never been higher.

We're not just fighting Thomas Mulcair's NDP and Justin Trudeau's Liberals.

This time, we're also fighting a radical union agenda.

It's the same one that worked tirelessly (and successfully) to re-elect a party that wasted billions of Ontarians' money to close half-built gas plants in key swing seats.

Sid Ryan and the Ontario Federation of Labour have openly declared war against Conservatives. Here's what Ryan had to say on July 28:

"The war room that we had up and running for the provincial election will be initiated, no question about it, for the federal election."

What does this mean? It means that they will spend millions of dollars attacking our Conservative government – and to reverse all the progress we've made together.

We can't afford to go back to the days of big spending, bigger entitlements, and higher taxes.

Canada is better off with the strong leadership of Stephen Harper. And he's counting on your support to win the next election.

Please chip in $5 and help us prepare to fight off the big union attacks. Everything we've fought for is at risk.

Sincerely,
Pierre Poilievre MP, Nepean-Carleton
---
July 8, 2014
From The Peoples' Social Forum To An Organized Left
By David Bush
Hammerhearts.wordpress.com

With the Peoples' Social Forum approaching in August I thought I would jot down a couple of ideas about where the left is, what challenges it's facing and what roads it could take.
Before I begin I want to list where I am coming from politically to help frame my analysis. I do this because we can't divorce the question of how we should organize ourselves from our political objectives. That being said the purpose of this post is to focus on the former not the latter.
The major problems we face, climate change, growing inequality, democratic dispossession, etc. are the result of our political and economic system – capitalism.
These problems can't be solved within the capitalist system thus we need to replace capitalism with some sort of democratic socialist society.
This can only happen if the working class itself takes charge in creating a more just society.
The working class should not be reduced to stilted images of factory workers – the working class is multifaceted and complex but shares a common relation to property and labour.
The working class is strategically located to overthrow capitalism because of its centrality to the capitalist economic system, but workers cannot be reduced to mere class. Nor can class politics exist without anti-oppression politics.
The self-emancipation of the working class from capitalism can't happen without recognizing and actively supporting the self-determination of First Nations.
Where is the left?
I am not going to spend much time on the state of the left. So much has been said about this it barely seems worth repeating. Over the past few years there have been some amazing social movements in the country. Occupy, the Quebec student strike, the environmental movement and Idle No More being the most notable. However, the left in Canada is still very weak. The working class, both in its organized and unorganized forms, is in survival mode (of course there are notable exceptions that buck the trend). I would also argue that the weakness of labour and the left partly explains why the NDP is moving right.
Unanchored ideas
Nonetheless, there are reasons to be hopeful. The ferment for leftist ideas since the economic crisis of 2008-9 has been on the rise. People want alternatives, as exemplified by polls showing high support for taxing the rich and renewable green energy. However, much of the left has only offered abstract ideas at best with little social base to support it. For example, emerging from Occupy were calls for the commons, the rolling jubilee, a general strike etc. There seems to be an underlying notion on the left that what is needed is better ideas, better theories and so forth. This wooden approach doesn't confront what is needed organizationally to turn ideas into lived reality.
There is a lack of politic understanding about how to move from point A to B. Until we can do this, we will continue to develop ideas that rely on spontaneous, unexpected support. Should they be successful, as with Occupy, the capacity to develop the organization and capacity to respond to opposing forces and advance the struggle become unworkable, resulting in a rapid dissolution of the movement. Except where local Occupy movements connected with pre-existing and rooted organizations, such as unions, Occupy left little by the way of lasting local organization.
I want to argue that the most pressing question facing the left in Canada is the organizational question – how do we organize ourselves, what is our strategy to build social movements and how do we help facilitate the spread of socialist ideas and action?
-Read the entire article at hammerhearts.wordpress.com
---
July 7, 2014
The Peoples' Social Forum
In the July/August issue of Briarpatch Magazine, David P. Ball takes a look at the upcoming Peoples' Social Forum in Ottawa, August 21 to 24 and asks "will the largest gathering of activists in years succumb to the left's culture of complaint, self-victimization, and fracture, or can platforms for renewed organizing and real strategizing emerge from a weekend in Ottawa?"
The countdown is on until the Peoples' Social Forum in Ottawa from August 21 to 24. But surprisingly, one of the organizers can hardly wait until the event – a historic gathering of social movements and Indigenous peoples – is over and done with.
"I'm actually looking forward to September!" jokes Michel Lambert, executive director of the organization Alternatives. "I don't really mean to sound like I want it to be over, but I'm dreaming that it won't just be an event. We don't want to organize one more conference. We want to build something – whatever it's called, an alliance of people – that cannot stop on August 25 when everyone goes home."
The vision behind the broad gathering of progressives, which is inspired by the World Social Forum (WSF) model, is to bring together the divergent forces of the left in hopes of working toward common goals and strategies. The event will include assemblies on climate change, labour organizing, decolonization, and poverty, to name a few, and a final larger assembly of social movements that will attempt to establish a common platform.
According to the event's website, organizers hope to not only foster debate but also "stimulate the emergence of concrete actions and the convergence of struggles." The expectations are ambitious: organizers are hoping for 10,000 participants.
It's hard to know if that is realistic, but there are dedicated regional organizing committees across the country. In early April, the B.C. committee announced plans to launch a caravan that will gather steam as it travels east. It's directly inspired, says Vancouver organizer Nadia Santoro, by the 1935 On to Ottawa Trek, where hundreds of men, unemployed due to the Great Depression, jumped freight trains and set off for Parliament Hill (only to be halted in Regina and then attacked by the RCMP in the so-called Regina Riot on July 1, 1935).
-Read the entire article at briarpatchmagazine.com
---
June 30, 2014
Interviews: the Peoples Social Forum
Socialist.ca's Ritch Whyman spoke to three organizers of the Peoples Social Forum about the importance of the conference and how people can get involved:

1) Who and what organisations/groups are involved in building the Peoples Social Forum?
Raul: Those involved in organising include community groups, racialized communities, Indigenous nations, labour, NGOs, students, workers from across Canada and Quebec.
Darius: Most unions, student organizations, Indigenous peoples and nations, lefty activists of all stripes, environmentalists, women's organizations, migrant justice organizers, artists, NGO's, and others who are just fed up with the direction of society.
2) The Forum is clearly inspired by Occupy, INM and the Quebec Student movement. Is it the hope that the forum can pull those inspired and active in those movements together?
Raul: The SF has its roots in Latin American activism, called "encuentros", a meeting which emphasizes dialogue and exchange of ideas among activists in the global south with an emphasis on alternatives. From Canada yes, those movements have been a source of inspiration as an example of collective action and resistance. The SF seeks to bring together all progressive social movements to help bridge the links between local and national struggles and linking them to global issues with a emphases on collective action to challenge the status quo in this country.
Darius: The Forum is indeed inspired by the many mass movements that have rocked "Canada" these past few years. But it is also very much inspired by the Social Forum movement which pre-dates these recent happenings. The hope is that the Peoples Social Forum can pull together all our social movements to build together, identify points of unity that strengthen our diverse struggles and perspectives, build trust, build solidarity, and come out of the forum with plans for action and stronger bonds between all participating peoples.
-Read the entire interview at Socialist.ca
---
June 27, 2014

The Peoples' Social Forum is ready for change in province and country
Building a better Alberta
It can be difficult these days, especially here in Alberta, to fathom that there is light at the end of the proverbial tunnel in regards to our future.
Our provincial and federal governments have been increasing the frequency and severity of attacks on democracy from attacks on collective bargaining and First Nations, to the death of evidence-based decision making and the broad-scale silencing of dissent. Federal and provincial governments seem intent on eliminating any space that might result in the articulation of creative and alternative ways of structuring our society.
Despite all that, we have seen a tremendous number of grassroots movements like Idle No More, Occupy and the fight-back against the government's anti-union legislation in the past couple of years. Albertans have shown time and again they are not yet prepared to fully abandon their belief in democracy, people-power and collective action—they're not prepared to completely had over control of their lives, their livelihoods and their communities to the goals, dreams and aspirations of the one percent.
Our province and country are clearly at a crossroads. With out-of-control inequality and ever-increasing consolidation of wealth and power in fewer and fewer hands, there is a choice to make: we can let go and succumb to undemocratic government decisions or we can hold on to our values and ideals and work to turn things around.
-Read the entire post at VUEWeekly.com
---
June 24, 2014

Ottawa, August 21-24, 2014
An Algonquin Invitation to the Peoples' Social Forum
Shannon Chief, traditional runner for the Algonquin grandmothers, invites all people from all nations to the traditional territory of the Algonquin nation to participate at the Peoples' Social Forum.
---
June 20, 2014

Letter to the Chief Negotiator, Trans-Pacific Partnership
Request for access and transparency in the TPP negotiating round in Ottawa
Common Frontiers is a signatory to this letter to Kirsten Hillman, Associate Assistant Deputy Minister Foreign Affairs and International Trade Canada.
-download a PDF of the letter in English | en français
Dear Ms. Hillman,
It is our understanding that Canada will host the next negotiating round of the Trans-Pacific Partnership, including Chief Negotiators meetings, in Ottawa in early July.
Given that this is the first – and likely last – high-level round of the TPP negotiations which will be held in Canada, we believe that it is critical that Canada ensures and facilitates opportunities for civil society stakeholder engagement with negotiators during the Ottawa round of negotiations, as has happened in previous rounds hosted by other parties.
As Canadian and Quebecois organizations with constituencies which will be significantly impacted by many aspects of the TPP, we believe the opportunity for Canadian, Quebec and other stakeholders to provide input and expertise to negotiators must be part of the Ottawa round of TPP negotiations. To this end, we ask you ensure stakeholder engagement opportunities with negotiators by:
Releasing as soon as possible the details and full schedule of the Ottawa round and schedule of stakeholder events to enable stakeholders to plan travel with enough advance notice to allow for reasonably priced travel and accommodation.
Organizing a briefing from lead negotiators for stakeholders at both the start and end of the negotiating round, with call-in options available for stakeholders unable to participate in person.
Providing space and time for stakeholder presentations during a day and time when negotiations are not in session, with large enough rooms to accommodate all relevant negotiators. Stakeholders should be provided with a minimum of 15 minutes for each presentation.
Providing access for stakeholders to the venue where negotiations are taking place, including to corridors during coffee breaks.
Providing the opportunity for tables at a time when negotiations are not in session and not during the same time as stakeholder presentation sessions.
Ensuring that any reception for negotiators be open to all stakeholders to encourage informal interactions.
Making available Internet access for stakeholders at the venue, and work space for civil society stakeholders that includes tables, printers, and a photocopier.
Distribution of NGO stakeholder documents to delegations in a timely manner.
We would also like to reiterate once again the widespread concerns related to the general secrecy surrounding TPP negotiations. Despite the advanced stage of negotiations, to date there has been no public access to draft agreement texts or summaries, which severely limits meaningful input by civil society stakeholders in these important negotiations. This level of secrecy stands in stark contrast to the transparency of other multi-lateral negotiations, such as the Free Trade Area of the Americas and the WTO Doha Round.
We therefore echo the call of civil society groups from all negotiating countries for greater transparency in TPP negotiations, including providing public access to the negotiating texts.
We await your reply as soon as possible. Thank you for your prompt attention to this request, and please accept our best regards.
Contacts:
Scott Harris, Council of Canadians, sharris@canadians.org, 1-877-729-4500
Normand Pépin, CSD/RQIC, pepinn@csd.qc.ca, 514-899-1070 poste 6006
Signatories:
Canadian Environmental Law Association
Canadian HIV/AIDS Legal Network
Common Frontiers
Council of Canadians
National Farmers Union
Open Media
Les AmiEs de la Terre de Québec
Association québécoise de lutte contre la pollution atmosphérique (AQLPA)
Centrale des syndicats du Québec (CSQ)
Coalition québécoise pour une gestion responsable de l'eau, Eau Secours!
Comité pour les droits humains en Amérique latine (CDHAL)

QUEBEC NETWORK ON CONTINENTAL INTEGRATION (RQIC)
Composed of the following organizations:
Alliance du personnel professionnel et technique de la santé et des services sociaux (APTS)
Alternatives
Association canadienne des avocats du mouvement syndical (ACAMS)
Attac-Québec
Association québécoise des organismes de coopération internationale (AQOCI)
Centrale des syndicats démocratiques (CSD)
Confédération des syndicats nationaux (CSN)
Conseil central du Montréal métropolitain-CSN (CCMM-CSN)
Fédération étudiante collégiale du Québec (FECQ)
Fédération des femmes du Québec (FFQ)
Fédération interprofessionnelle de la santé du Québec (FIQ)
Fédération des travailleurs et travailleuses du Québec (FTQ)
Mouvement d'éducation populaire autonome et d'action communautaire du Québec (MÉPACQ)
Réseau québécois des groupes écologistes (RQGE)
Syndicat de professionnelles et professionnels du gouvernement du Québec (SPGQ)
cc:
Ed Fast, Minister for International Trade
Nadia Theodore, Director, TPP division, DFADT
M. Jacques Daoust, Ministre de l'Économie, de l'Innovation et des Exportations du Québec
M. Patrick Muzzi, Directeur de la Politique commerciale du Québec, MDEIE
---
June 5, 2014

Letter to the World Bank
No Loans To Guatemala Until Reparations Paid To Victims Of Chixoy Hydro-Electric Dam Massacres And Forced Evictions
Burial of 2 year old boy from Rio Negro on May 14, 2014, one of 440 victims of the World Bank and Inter-American Development Banks' Chixoy Dam massacres. This boy was taken in an army helicopter, along with 15 women and children, and their remains were exhumed in the Coban military base in 2012.
Photo: Alexandra Pedersen.
Common Frontiers has joined a call to the World Bank to end loans to Guatemala.
Please send this letter (link to full text) to your Senator, Member of Congress and Member of Parliament, insisting on no more World Bank loans to Guatemala, at least until the Government of Guatemala ensures complete implementation of the Chixoy Dam Reparations Plan as set out in the 2010 agreement.


Reparations for Communities Affected by the Chixoy Dam (Excerpt from letter)

Dear World Bank Executive Directors:

It is our understanding that on June 4, 2014, the Board of Governors of the World Bank intends to review and vote upon a $340 million loan to the Government of Guatemala. We write to ask that you suspend that vote until the Government of Guatemala has begun compliance with the 2010 Chixoy Reparations Plan.

As you know, the Government of Guatemala is currently in a dialogue with the World Bank and the Inter-American Development Bank regarding long overdue reparations for the indigenous Mayan communities impacted by the construction of the Chixoy Hydroelectric Dam, which was constructed during the height of Guatemala's armed conflict in the 1980's.

The residents of 33 affected communities have survived over three decades in dire poverty provoked by the flooding of their lands, forced displacement, loss of access to water, loss of transportation routes and other impacts. Many also suffered violence. One of the communities most impacted by the project was Rio Negro. Rio Negro was subject to a series of five massacres, including the March 13, 1982 massacre of 107 children and 70 women, which the United Nations sponsored Truth and Reconciliation Commission found were directly related to the dam's construction.
---
May 29, 2014

Toward an Assembly of Social Movements on Climate Change
Peoples Social Forum 2014
Before and Beyond Ottawa
More than 10,000 people are expected at the Peoples' Social Forum taking place in Ottawa from August 21st to 24th. This will be a historic gathering as it will be the first time that activists and progressives from French and English Canada as well as First Nations will come together to discuss the future we want. The issue of how we protect our environment is already a defined theme of the Forum and an Assembly of Social Movements on that specific theme is taking shape. Now more than ever, our movements are active on the issue.
First Nations are at the forefront of many struggles against the petro and mining industry in Canada;
Citizen movements have generated massive opposition to each and every attempt by the Government of Canada to export its petrol via the South, West and now East;
Environmental organizations, targeted by the very same government, have launched new campaigns and have gained more and more support against climate change in general and extractive industries in particular;
Scientists and institutions, also under attack, are continuing to denounce the climate obscurantism of this government and all also calling for action now.
These conditions create a momentum and we believe that together, we can achieve much more to stop climate change. Canadian industries and policies need to be changed now.
---
May 22, 2014
For Immediate Release
Canada-Colombia human rights report exercise in futility
Toronto, ON - The Canadian government's third human rights report on its controversial free trade agreement with Colombia, tabled May 16, reads like a marketing brochure for neoliberal economics.
Once again, the annual human rights impact assessment (HRIA) on the Canada-Colombia Free Trade Agreement (CCOFTA) does little to meet its obligation to analyse the effects of Canadian investment on human rights in Colombia. Instead, the report extols the virtues of pro-market, tariff-reducing free trade policies, with a window dressing of corporate social responsibility.
The CCOFTA came into force in 2011 with the goal of providing new market opportunities to Canadian corporations. (One such opportunity arose after the Canadian government eased its ban on exporting assault-style weapons to Colombia, one of the world's most violent countries.) The agreement's human rights component was an afterthought, included only after intense opposition from labour and social justice groups in Canada and Colombia. The solution, developed by then Liberal trade critic Scott Brison over a steak dinner with his Colombian counterpart, was to throw in a human rights assessment without any due diligence or prior baseline study as recommended by world experts.
-read the entire release

For more information:
Raul Burbano Program Director, Common Frontiers:
(416) 522 8615 or burbano@rogers.com

---
May 22, 2014
A Call for the Building of an Alternative Legal Framework to the International Investment Treaties: favoring the Public Interest while doing away with Transnational Corporate Impunity
Prepared by Working Group On Investment Of The Americas
Read the document by clicking here
Download the document by clicking here
This is a document prepared by the Working Group on Investment of the Americas which includes people from several organizations and networks seeking to ensure that international trade and investment is based on social justice and respect for the environment.
The objective of this document is to contribute to the ongoing debate and promote a coming together in regard to investment rules that conform to the existing paradigm on which Free Trade Agreements (FTAs) and Bilateral Investment Treaties (BITs) are built. It seeks to incorporate proposals that have for some time been in the process of elaboration by actors from civil society, social movements, academics, and legal experts.
The document contains an analysis of the international investment agreements' regime, a series of proposed principles for the construction of alternative frameworks for international investment and a Call for the discussion and construction of a basic common agenda.
Please send your comments, critique and suggestions for improvements at one or several of the following e-mails: Alberto Arroyo (RMALC-Mexico) albertoarroyo60@gmail.com , Luciana Ghiotto (ATTAC-Argentina )luciana.ghiotto@gmail.com, Manuel Pérez-Rocha (IPS-USA) manuel@ips-dc.org, Cecilia Olivet (TNI) ceciliaolivet@tni.org
The document is also available in Spanish and French
---
May 21, 2014
Human and Land Rights Violation Against the Garifuna People in Honduras
Letter from the Garifuna Nation to members of the U.S. Congress concerning repression, human and land rights violations and impunity by military-backed government in Honduras
To: Honorable Janice Schakowsky and Members of Congress
The Garifuna Nation which is comprised of about thirty Garifuna organizations from the countries of; "Yurumein" Saint Vincent & the Grenadines, Honduras, Nicaragua, Guatemala, Belize, the United States of America and is committed to represent the interest of our people which approximately is about 600,000 worldwide. This includes about 300,000 people who currently reside in the United States and are in the states of; New York, California, Illinois, Texas, Louisiana, Florida, Massachusetts, Virginia, Nevada, Arizona, Georgia, Michigan, Connecticut, New Jersey and other states.

We hereby applaud and support the bold stand that is being taken by Congresswoman Janice Schakowsky from the 9th Congressional District in the State of Illinois and her colleagues in Congress, to draft a Resolution highlighting the Human Rights and Land Abuses that is being committed against the Garifuna people and other groups by the President of Honduras Orlando Hernandez and his government. This Resolution will be sent to the US Secretary of State John Kerry to examine the state of affairs in Honduras and to re-examine the current US relations with this country.

Our organization intend to not only support the efforts of Congresswoman Janice Schakowsky and her congressional colleagues but also stand ready, willing and able to provide them with whatever additional evidence and testimonies that they may need to prove this compelling case against the Government of Honduras.

The on-going Human Rights and land infringement cases against the Garifuna people over the years has been documented by several reputable international, regional and local organizations such as; the United Nations, Organization of American States, Human Rights Watch, Amnesty International and all the Garifuna organizations in the country of Honduras and in the Garifuna diaspora.

We are impressed with the transcript that is being contained in the Congresswoman's list of Human Rights and land violations that has been occurring against our people in the last six years since the overthrow of the democratically elected President Manuel Zelaya in 2009. We also would like to add that Human Rights Abuses against the Garifuna people has been taking place in Honduras since we first arrived in this country on April the 12th, 1797. These abuses have led to the mass migration of our people to the neighboring countries of; Nicaragua, Guatemala, Belize, the United States and elsewhere where they continue to reside up to this day.
---
May 20, 2014
South America: How 'anti-extractivism' misses the forest for the trees
Thousands of indigenous peoples led by CONAIE (Confederation of Indigenous Nationalities of Ecuador) converge on Quito in March 2012 after a 15-day march demanding an end to open pit mining and new oil concessions.
By Federico Fuentes
International Journal of Socialist Renewal
(A shorter verson of this article appeared in Green Left Weekly)
A recent spate of high-profile campaigns against projects based on extracting raw materials has opened up an important new dynamic within the broad processes of change sweeping South America. Understanding their nature and significance is crucial to grasping the complexities involved in bringing about social change and how best to build solidarity with peoples' struggles.
Many of the campaigns that target specific mining, oil, agribusiness or logging ventures share common elements. They have raised public awareness around a variety of important environmental issues such as water scarcity, forest preservation and sustainable land usage.
In some cases, particularly in Ecuador and Bolivia, these campaigns have influenced existing discussions on issues such as climate change, the rights of Mother Earth and the kinds of alternative development models needed to achieve radical change.
Another common aspect has been the central role played by rural indigenous communities. This is due not only to the fact many of these extractive ventures occur in indigenous territories, but also the leading role indigenous movements have played in recent years in the global environment movement.
As a result, issues such as indigenous autonomy and the right to prior consultation on ancestral lands before embarking on extractive projects have become increasingly intertwined with debates over resource extraction and the environment.
This is particularly true in Ecuador and Bolivia, where indigenous peoples constitute a sizeable minority, if not majority, of the population. In these countries, indigenous conceptions such as "Buen Vivir" (Good Living) and "Pachamama" (Mother Earth) have become part of common public discourse and been successfully enshrined in new constitutions that provide a framework for the new society that social movements are striving to build.
Another common element is that such campaigns can be found in almost any South American country, whether run by right-wing neoliberal governments, such as Colombia, or left-wing indigenous-led ones, such as Bolivia.
[Federico Fuentes was co-author with Roger Burbach and Michael Fox of Latin America's Turbulent Transitions: The Future of 21st Century Socialism and is a regular contributor to Green Left Weekly, where a shorter version of this article first appeared.]
---
May 14, 2014
Hupacasath Court of Appeal Date set
A message from Brenda Sayers of the Hupacasath Nation
Hello Everyone,
 
On behalf of Hupacasath First Nation I would like thank all of you for your continued support. We finally heard from the Court of Appeal and the hearing date is set for June 10, 2014 from 9:30-12:30 in Vancouver. For those of you that can support us, we would love to see you there.
Read the press release that went out this morning. 
 
Hupacasath would appreciate your help in reaching our fundraising goal as we are still short.
You can make your donation on the Leadnow donor site.  
 
Thank you everyone. 
---
May 14, 2014
Peoples' Social Forum welcomes children
The Peoples' Social Forum in Ottawa August 21-24, welcomes children 5-13 years old to participate in the Children's Social Forum, and little ones 4 and under to join the fun at the Child Minding Center! Many programs, activities and outdoor outings are being planned for kids in a safe and creative environment.
Register your child here: peoplessocialforum.org/childrens-forum-des-enfants
Adults can register for the forum here: peoplessocialforum.org/register
For more details about the Forum, visit peoplessocialforum.org
---
May 6, 2014
Alex Atamanenko on Canada-Honduras Economic Growth and Prosperity Act
Alex Atamanenko, NDP MP for British Columbia Southern Interior (B.C.) during debate on Canada-Honduras Economic Growth and Prosperity Act.
Mr. Speaker, let me be clear. There are three fundamentally important criteria for assessing the merits of trade agreements.
First, does the proposed partner respect democracy, human rights, adequate labour and environmental standards, and Canadian values? If there are challenges in these regards, is the partner on a positive trajectory toward these goals?
Second, is the proposed partner's economy of significant or strategic value to Canada? Third, are the terms of the proposed agreement satisfactory?
The proposed free trade agreement with Honduras clearly fails this test. Honduras is a country with undemocratic practices, a corrupt government, weak institutions and a record of human rights abuses. It has low standards and insignificant strategic value.
Honduras is a very poor country with a history of repressive, undemocratic politics and a seriously flawed human rights record. Leftist president Manuel Zelaya's democratically elected government was toppled by a military coup in 2009. Since then, international observers have severely criticized the government's actions and the elections because they fail to meet acceptable democratic standards.
---
April 29, 2014
Letter re: Murder of Honduran Carlos Mejía Orellana
Letter to Hon. John Baird
Minister of Foreign Affairs
We the undersigned are outraged and deeply saddened by the news of the murder of Carlos Mejía Orellana on April 11, 2014, a journalist and marketing director of Radio Progreso, a Jesuit community-based radio station in El Progreso, Honduras. We would like to express our deepest condolences to Carlos' family members, friends and colleagues. Our thoughts and prayers are with all who are mourning this senseless death.
Following the coup d'état in 2009, Carlos and other Radio Progreso employees have been targets of repeated death threats because of their commitment to journalistic and social expression, and documentation of abuses of power and impunity. The Inter-American Commission on Human Rights (IACHR) has repeatedly granted precautionary measures to 16 staff members of Radio Progreso, including Mejía Orellana, due to persistent threats against them. The Director of Radio Progreso, Father Ismael "Melo" Moreno, SJ testified before the U.S. Congress at the Tom Lantos Human Rights Commission and described the constant death threats and attacks perpetrated with impunity against journalists in Honduras, including against Radio Progreso, its employees and its research arm, ERIC.
Since last spring, Canadian parliamentarians have heard disturbing testimony about the deteriorating human rights situation in Honduras in the Parliamentary Subcommittee on International Human Rights. Given the level of threats and violence, including assassination, targeted against journalists, the media and freedom of expression in Honduras, we are dismayed and disturbed that the Government of Honduras has failed to implement protective measures for the employees of Radio Progreso, as called for by the IACHR.
Honduras is one of the Western Hemisphere's most dangerous places for the media. Death threats are often carried out and impunity prevails. Honduras continues to have the highest murder rate in the world (90.4/100,000) according the United Nations Office on Drugs and Crime (UNODC).
We ask the Canadian government to call on the Honduran authorities to immediately implement protective measures ordered by the IACHR and to carry out a thorough investigation into the murder of Carlos Mejía Orellana, to find those responsible for this heinous act and bring them to justice in a timely manner.
Further, in consideration of continuing human rights abuses in Honduras, we ask that the Canadian Parliament, oppose and/or withdraw all support to Bill C-20, the Canada-Honduras Economic Growth and Prosperity Act, and do all that is necessary to ensure that it does not become the law of the land.
Testimony provided by esteemed human rights defender Bertha Oliva, General Coordinator of the Committee of Relatives of the Disappeared and Detained in Honduras (COFADEH), in the Standing Committee on International Trade on April 8, 2014 emphasizes that the trade deal risks exacerbating human rights violations such as this, in Honduras.
Thank you for your time and attention.
Sincerely,
Alternatives Americas Policy Group (APG), Canadian Council for International Cooperation (CCIC)
Association québécoise des organismes de coopération internationale (AQOCI)
Atlantic Regional Solidarity Network
British Colombia Teachers Federation
Canadian Jesuits International (CJI)
Centre justice et foi
Comité pour les droits humains en Amérique latine (CDHAL)
Common Frontiers
Horizons of Friendship
Jesuit Forum for Social Faith and Justice
Latin American and Caribbean Solidarity Network (LACSN)
Mining Injustice Solidarity Network (MISN)
Maquila Solidarity Network
Mary Ward Centre
Mer et Monde
Rights Action
SalvAide
Mr. Tyler Shipley, Sessional Lecturer, Humber College
cc: Wendy Drukier, Ambassador, Canadian Embassy in Honduras
---
April 25, 2014
Canadian organizations condemn post-election violence in Venezuela
Dear Honourable Member of Parliament
We, the undersigned organizations respectfully request the Government of Canada to condemn the violence perpetrated by the Venezuelan opposition and to recognize the results of the National Electoral Council (CNE by its Spanish acronym), which proclaimed Nicolas Maduro as the president elect of Venezuela.
On Sunday April 14th Venezuelans went to the polls in a peaceful and democratic electoral process that saw more than 78% of the electorate partake. After proper audit checks had been undertaken, the president of the CNE, Tibisay Lucena declared Nicolas Maduro president elect by 50.8% to 49% - a difference of some 265,000 votes.

Hours prior the results were announced, Henrique Capriles, attempted to discredit the electoral process by claiming on his Twitter account that the government was planning to "change the results".
Upon the release of the official results, Capriles held a press conference in which he claimed that the victory was "illegitimate" and refused to recognize Maduro's victory until all ballots are manually audited.

The National Electoral Council has undertaken to audit 54% of the vote, "a statistical proportion that in any part of the world is considered excessive"[1], and carried out fourteen audits before and during the electoral process to safeguard the functioning of the system. Tibisay Lucena reminded Capriles to use the proper judicial processes open to him to clarify any doubts he has over the results.

The Union of South American Nations (UNASUR) electoral accompaniment mission, present throughout the electoral process, has called for respect for the CNE's official results. On Monday, government and military leaders on state television defended the official vote count and accused Capriles of trying to ferment violence.
Irrespective of all this, Capriles is refusing to recognize the results of the CNE and called on his supporters to take to the streets in protests. Capriles supporters took to the streets burning buildings of the United Socialist Party of Venezuela (PSUV), attacking government health clinics and even the house of electoral council President, Tibisay Lucena. Their actions have caused dozens to be injured and 7 killed.
We condemn the opposition-initiated violence against innocent supporters of President Nicolas Maduro as an attempt to destabilize Venezuela. In line with UNASUR we call on the opposition to respect the will of the people and to recognize the results of the CNE.

We call on the Government of Canada to condemn the violence perpetrated by the opposition and to recognize the results of the CNE, which proclaimed Nicolas Maduro as the president elect.

Alternatives
Comité pour les droits humains en Amérique latine
Common Causes
Common Frontiers
Council of Canadians
Canadian Union of Public Employees
Canadian Union of Postal Workers
Latin American Trade Unionists Coalition - National
Ontario Federation of Labour
SalvAide
The Latin American and Caribbean solidarity network
For more information please contact:
Raul Burbano
Common Frontiers – Program Director
comfront@web.ca

---
April 23, 2014
Malgré le frette et les barbares
Guillaume Hébert
Le Journal De Montreal
La chanson « Les Yankees », de Richard Desjardins, est un chef-d'œuvre. Elle raconte en poésie ce qu'est l'impérialisme et le colonialisme à travers le récit d'un débarquement de marines au sud du continent. La chanson fait écho à une longue tradition de dépossession en Amérique latine, une sombre tradition à l'origine de l'expression « République de bananes ». On avait jadis attribué ce surnom au Honduras à l'époque où une compagnie bananière fonctionnait comme le véritable pouvoir à l'intérieur d'un État dirigé par un gouvernement de marionnettes. Mais qui sont vraiment ces « yankees »?
Honduras : Coup d'état et libre-échange
« On pensait que cette époque était terminée », affirmait Bertha Oliva en conférence à Montréal mercredi dernier. Mme Oliva est la coordonnatrice d'un centre de défense des droits humains au Honduras (COFADEH) et elle commentait la situation désastreuse dans laquelle se trouve son pays. Le Honduras semble se diriger à contre-sens de l'histoire alors qu'il combine aujourd'hui des processus de dépossession dignes de l'époque coloniale et une répression impitoyable de la dissidence comme le faisaient les gouvernements militaires des années 80.
Bertha Oliva réalise une tournée canadienne pour une raison bien simple : depuis le coup d'État de 2009 contre un président trop peu favorable aux intérêts des élites économiques locales, le gouvernement Harper est devenu le plus grand allié de l'État hondurien. Alors qu'on pourrait s'attendre d'un pays qui affirme volontiers faire la promotion des valeurs démocratiques dans le monde qu'il applique plutôt des sanctions à un État où l'impunité règne en matière de violation des droits humains et où le climat social s'est dégradé au point d'en faire la capitale mondiale de l'homicide. Toutefois, le Canada n'a rien trouvé de mieux que de signer un accord de libre-échange avecle Honduras.
---
April 19, 2014
Stark similarities of missing indigenous peoples of North and South America
Honduran human rights activist Bertha Oliva visited Six Nations last week to speak of the forced disappearances of thousands of people from her country in Central America. (Photo by Jen Mt. Pleasant)
By Jennifer MtPleasant
Two Row Times
The missing and murdered Indigenous people movement in Canada has been gaining increasing awareness in the past few months. More and more groups are lobbying the federal government to call a national inquiry into the disappearances and murders of thousands of First Nations men and women.
The total numbers are shocking. But is this a new phenomenon? By looking at the plight of other Indigenous peoples of the Americas, we can gain a better understanding of how to deal with this issue. Although people go missing and are murdered in every society and in every culture, Indigenous peoples around the globe face higher mortality, violence and 'forced disappearance' rates then that of non-Indigenous people.
Prominent human rights activist Bertha Oliva was at Six Nations last Thursday to draw attention to the plight of thousands of people in Honduras who have been the victims of forced disappearances in the past few decades. Oliva is the General Coordinator of the Committee of Relatives of the Disappeared and Detained (COFADEH) in Honduras and just wrapped up a speaking tour in Toronto, Ottawa and Montreal.
Oliva spoke about the common struggles that all Indigenous people of the Americas face including high rates of murders, violence, and disappearances as well as struggles with displacement and pipelines. Through an interpreter, Oliva spoke about the human rights situation in Honduras where entire communities are being exploited and environmental degradation is a huge problem.
COFADEH, Oliva explained, was created in 1979, in response to a 10-year government war on its citizens where, "people were detained, tortured and killed as a result of state policy." Oliva said that when COFADEH was first created, "Our intentions were to find people alive but we realized we weren't going to find anyone alive. So finding truth was the only thing that could provide us with any sense of justice and a sense of peace." She also stated that none of the crimes of the past have been recognized and the perpetrators have never been brought to justice. "It's like we went 40 years backwards," said Oliva.
---
April 18, 2014
Bertha Oliva's Testimony to Two Federal Committees
As part of the recent Building Solidarity with Honduras Tour: Peoples' Rights over Corporate Rights tour of Ontario and Quebec, Bertha Oliva, General Coodinator, Committee of Relatives of the Detained and Disappeared in Honduras, gave testimony to two federal government committees.
Below are links to the transcripts of her two appearances:
April 8, 2014
Subcommittee on International Human Rights of the Standing Committee on Foreign Affairs and International Development
April 8, 2014
Standing Committee on International Trade:

---
April 17, 2014
WOLA Statement
Major Colombian Union Suffers Bombing
Colombian Government Must Investigate
On April 16, 2014, incendiary bombs were thrown at the headquarters of SINTRAEMCALI, the public sector union in Cali, Colombia. The attack comes just days after a major court decision on April 11, which ordered Colombia President Juan Manuel Santos and Vice President Angelino Garzón to ask forgiveness for crimes committed against SINTRAEMCALI, SINTRAUNICOL, and SINTRATELEFONOS unions during the government of former president Alvaro Uribe.
These latest attacks come just one week after the third anniversary of the U.S.-Colombia Labor Action Plan (LAP), which both countries applauded for purportedly securing "major advances" in labor rights. The bilateral agreement was designed to address Colombia's high levels of anti-union violence and labor rights violations in advance of a free trade agreement, though according to new research, the LAP has largely failed to improve the situation of organized labor in Colombia. In 2013, 26 union members were murdered for their work in Colombia, and illegal subcontracting and mass firings continue to be widely used to violate the right to free association.
SINTRAEMCALI has been especially targeted by paramilitary groups for its organizing in the wake of a mass firing of Cali public sector workers in 2004. In the decade since, at least 15 members of SINTRAEMCALI have been forced into exile, 8 killed, and over 100 more threatened. The union was also the target of "Operation Dragon," a government-backed assassination plot against then-SINTRAEMCALI President—and current senator—Alexander Lopez Maya and other human rights defenders in the region. The trial against several members of the Colombian armed forces is currently ongoing.
WOLA asks that the Colombian government, and specifically the National Protection Unit (Unidad de Protección Nacional, UNP) investigate these events and ensure sufficient protection is given to the labor leaders in accordance with its commitments under the Labor Action Plan. Yet protection measures alone are insufficient in ensuring lasting protection and addressing the underlying causes of anti-union violence. The Attorney General must investigate these crimes, and ensure both the material and intellectual authors are brought to justice. As U.S. Congressmen McGovern and Miller highlighted in a recent letter, threats and attacks should be taken more seriously and immediately investigated to ensure they do not translate into murders. Finally, political statements make a tangible difference in protecting lives; President Santos should abide by the April 11 court order and apologize on behalf of the Colombian government for the crimes committed under President Uribe, as well as condemn this latest attack.
---
April 15, 2014
Free City Radio interview
Honduran struggles against political killings and disappearances
Listen to an interview with Bertha Oliva de Nativí from Comité de Familiares de Detenidos Desaparecidos en Honduras (COFADEH), a committee representing families of social activists, journalists and human rights workers disappeared in Honduras. This interview looks at the historical struggle for justice dating back to the 1970/80s and the contemporary context of the recent wave of political assassinations and disappearances in Honduras since the 2009 right wing, military backed coup d'état.
Also this interview details the context and repression facing journalists in Honduras, a country where over recent years. The Committee to Protect Journalists writes that in Honduras journalists "face violence and intimidation" and that "journalists who covered sensitive topics like drug trafficking, government corruption, and land conflicts were threatened and attacked."
(special thanks to filmmaker Jesse Freeston for translation support)
Listen to the interview on Soundcloud
more info:
www.cofadeh.hn/
cpj.org/americas/honduras/
---
April 14, 2014
Honduras: le libre-échange malgré des droits bafoués
Bertha Oliva, l'une des militantes les plus connues des droits de la personne au Honduras, accuse le Canada d'avoir signé un accord de libre-échange avec le Honduras, en novembre, alors que son pays était en pleine crise sociale et politique.
PHOTO ANDRÉ PICHETTE, LA PRESSE
ISABELLE HACHEY
La Presse
Un pays ultraviolent, gangrené par la corruption, où règne une impunité quasi totale: depuis cinq ans, le Honduras glisse dans un inquiétant chaos. Pourtant, au nom du commerce, le Canada a choisi d'ignorer la détérioration des droits de la personne dans ce petit pays, le plus pauvre d'Amérique centrale.
C'est le dur constat que dresse Bertha Oliva, l'une des militantes les plus connues des droits de la personne au Honduras. De passage à Montréal cette semaine, elle a accusé le Canada d'avoir signé un accord de libre-échange avec le Honduras, en novembre, alors que son pays était en pleine crise sociale et politique.
À la tête du Comité des familles de détenus et disparus du Honduras (COFADEH), Mme Oliva milite depuis la disparition de son mari, Tomas Nativi, en 1981. À l'époque, le Honduras était sous la coupe des militaires, soutenus par les États-Unis dans le grand jeu géopolitique de la guerre froide. Le Bataillon 3-16, une tristement célèbre unité de l'armée, était chargée d'assassiner et de torturer les opposants politiques du gouvernement.
Trente ans plus tard, les militants honduriens ont une douloureuse impression de déjà-vu. Les escadrons de la mort, préviennent-ils, sont de retour dans les rues de la capitale, Tegucigalpa.
Depuis le coup d'État du 28 juin 2009, pas moins de 32 journalistes ont été assassinés au Honduras, selon Human Rights Watch. Des professeurs, des syndicalistes et des dirigeants paysans ont aussi été tués, menacés ou poursuivis en justice, dit Mme Oliva. «On veut casser les dirigeants, uniformiser la pensée, éliminer ceux qui exigent des changements sociaux en profondeur, dit-elle. On utilise la machine de l'État pour instaurer une culture de la peur.»
---
April 8, 2014
Three Years of Non-Compliance with the Obama-Santos Labor Action Plan
Joint statement by
Richard Louis Trumka, President AFL-CIO,
Luis Alejandro Pedraza, Presidente CUT
Luis Miguel Morantes, Presidente CTC
Three years ago, on April 7, 2011, the governments of Colombia and the United States signed an agreement known as the "Labor Action Plan" (LAP) aimed at addressing egregious worker rights violations and overcoming the obstacles for ratifying the free trade agreement by the U.S. Congress.

The LAP proposed positive albeit incomplete measures to improve protection and respect for labor rights. However, from the outset this side agreement lacked the enforcement mechanisms needed to ensure that all of its commitments were fully implemented not only before the trade agreement entered into force but also on a continuing basis. As a result, after the FTA went into force the Colombian government no longer felt pressure to promote sustained and meaningful protection of labor and union rights that Colombian workers have lacked for so long.
The Colombian government seems to have understood the LAP as an agreement without the legal and political tools that would obligate its effective and complete implementation. The Colombian government seems to have viewed the LAP as principally a way to gain approval of the FTA by the United States Congress. The incipient process of reforms of the LAP was not sustained after the FTA was implemented.

Three years after the signing of the LAP and almost two years after the FTA came into force, the macroeconomic damage to Colombia has been profound. In the first full year of the FTA, Colombian exports to the US have fallen by over 15% while imports from the United States grew by nearly the same amount according to official Colombian data. At the same time, the rights of Colombian workers continue to be denied by many employers and ignored by the Colombian state; the LAP did not help contribute to sustainable development or shared prosperity.
---
April 2, 2014
20 ans de l'ALENA et un grand désastre pour le peuple mexicains
---
March 31, 2014
Ottawa falling short on key provision of free-trade deal
By Kim Mackrael
Published in the Globe and Mail
The federal government is falling short on a landmark pledge to document how a free-trade deal with Colombia is affecting human rights in the South American country, non-governmental organizations say.
Ottawa agreed in 2010 to produce an annual report on human rights, in part to assuage fears that abuses might go unchecked as bilateral trade and investment increased. But more than two years after the free-trade agreement came into effect, critics say the government has failed to produce a substantive assessment of the human-rights situation in Colombia.
Canada's first report concluded that it was too soon to analyze the human-rights situation in Colombia and promised a more detailed assessment in 2013. A second report was produced last year but concluded it was not possible to make a direct link between Canadian trade and human rights. It did not assess the potential impact of Canadian investments on human rights in Colombia. 
Canadian NGOs say there are few indications that this year's report will be much of an improvement.
---
March 31, 2014
For Immediate Release
Building Solidarity with Honduras Tour:
Peoples' Rights over Corporate Rights
(Toronto) Prominent Honduran human rights activist Bertha Oliva, general coordinator of the Committee of Relatives of the Disappeared and Detained in Honduras (COFADEH), will be speaking in Toronto, Six Nations, Ottawa and Montreal the week of April 7 to 11, 2014.
COFADEH is a leading Honduran human rights organization. It seeks justice for current human rights abuses and for "disappearances" by state security forces in the 1980s, and trains local human rights activists. Bertha Oliva has become an emblematic presence in Central American human rights movement and is one of the leading voices of resistance to state repression.
Bertha will share first-hand accounts of deteriorating human rights in Honduras, militarization of the Central American country and its political crisis since the controversial November 2013 elections. She will report on the aggressive privatization and extraction of natural resources, and how that contributes to social conflict.
Violence and corruption in Honduras have reached an all-time high: 32 journalists have been murdered since 2009. According to "Honduras: Journalism in the Shadow of Impunity," a recent report by PEN Canada, PEN International, and the International Human Rights Program at the University of Toronto's Faculty of Law, much of this violence is carried out by the state itself and its corrupt police force. Transparency International cites Honduras as the most corrupt country in Central America and one of the most corrupt in the world.
-read the entire release en français

-more info about the Building Solidarity with Honduras Tour
---
March 30, 2014
---
March 28, 2014
---
March 26, 2014
Video - European Parliament Debate - Commercial Agreements and Human Rights Clause
The EU has included human rights clauses in its international trade and cooperation agreements since the early 1990s. These clauses permit a party to a trade agreement to adopt 'appropriate measures' in the event that the other party violates human rights or democratic principles.
This study reviews the design and operation of these clauses in light of the EU's new competences and the European Parliament's new powers under the Lisbon Treaty. It considers in particular the application of human rights clauses to investment protection obligations, and it suggests new corporate social responsibility obligations. The study also looks at several means to improve the monitoring and enforcement of these clauses, including the possibility of a right of petition for an
investigation into alleged human rights abuses.
The study concludes with 11 recommendations for future human rights clauses, and discusses legal and practical issues relating to their implementation.
---
March 25, 2014
Video - Mohammad Ali - "Precarious Work"
This video was produced for the George Brown College's 22nd annual Labour Fair.
Students deserve better...
...than minimum wage.
...than unpaid internships.
...than unemployment.
---
March 17, 2014
NAFTA: 20 Years of Costs to Communities and the Environment
It's been 20 years since the North American Free Trade Agreement (NAFTA) changed the face of North America. In a special report, commissioned by the Sierra Club looks at the costs.
January 1, 1994 marked the first day of the implementation of the North American Free Trade Agreement (NAFTA). The pact ushered in a new era of trade agreements that went significantly beyond core trade issues to include regulations and public interest policies related to agriculture, investment, energy, food and consumer safety standards, labor, the environment, and more.

The 20th anniversary of NAFTA is a moment to reflect upon the agreement's harmful effect on North American communities and the environment. Although identifying all the causal effects of a single trade pact on the environment is difficult, the evidence documented in this report demonstrates that NAFTA has reduced the ability of governments to respond to environmental issues and it has empowered multinational corporations to challenge important environmental policies. In particular, this report finds that NAFTA:

• Facilitated the expansion of large-scale, export- oriented farming that relies heavily on fossil fuels, pesticides, and genetically modified organisms;

• Encouraged a boom in environmentally destructive mining activities in Mexico;

• Undermined Canada's ability to regulate its tar sands industry and locked the country into shipping large quantities of fossil fuels to the United States;

• Catalyzed economic growth in North American industries and manufacturing sectors while simultaneously failing to safeguard against the increase in air and water pollution associated with this growth; and

• Weakened domestic environmental safeguards by providing corporations with new legal avenues to challenge environmental policymaking.
-read the entire report (PDF 958kb)
---
March 21, 2014
A popular Toronto priest has received threats since he held a service commemorating the anniversary of Hugo Chavez's death.
Father Hernan Astudillo of Toronto's Parish of San Lorenzo says he's become a target of threats by someone opposed to the Venezuelan government.
By: Nicholas Keung
Toronto Star
As Venezuela's political crisis deepens, bitter divisions in the South American nation have spilled into Toronto, with a popular local priest receiving threats.
Father Hernan Astudillo of the Parish of San Lorenzo and Radio Voces Latinas, a radio station he founded in 2003, says he received threats by fax, email and phone last week after the church commemorated the anniversary of the death of controversial Venezuelan president Hugo Chavez.
That followed a silent protest by a man who attended a Sunday mass for Chavez on March 9 at the church near Dufferin St. and Lawrence Ave.
Toronto police are investigating the complaint, but no one has been charged.
"It's okay to disagree and have heated debates, but you can't intimidate and silence others with death threats," said Pablo Vivanco, a member of the church, whose family came from Chile.
"Our members come from Latin America and have suffered too much violence and political destabilization. This is not something we expected in Canada."
In one email to Radio Voces Latinas, a group self-identified as Comunista Contra (Anti Communism) criticized the station for polarizing Toronto's Latin American community with its "leftist" agenda and views.
"Why do you not just get the f--- out of here, and stop creating hate to destabilize the peace that us, Latinos, have here?" said the email written in Spanish. "What you are doing will get you what you deserve up you're a-- so to keep you in line."
A day later, on March 12, a group called Verdad de Dios (Truth of God) sent a fax in English to the church that addressed Astudillo personally.
"You have used the church as a vehicle of communist propaganda, which is contrary to the presets of any Christian church. You have committed fraud in your caravan of hope scam," it said. "You are finished."
Venezuela has been in chaos since early February as people took to the streets in protest of the government of President Nicolas Maduro, Chavez's handpicked successor, who has been criticized for a heavy-handed suppression of dissent. Many Venezuelan citizens say they're sick and tired of shortages of consumer goods, high crime rates and soaring inflation.
Astudillo, an Ecuadorian, said he is not a Chavez sympathizer but did feel the Venezuelan leader had done a lot to improve the lives of the country's poor by reducing income inequality, poverty and illiteracy.
"It is important to have leaders who care about the most poor and excluded people in our society," said Astudillo. "All politicians have the obligation to provide and take care of the poor. Chavez had done that."
Sofia Ramirez, an active member of the city's Latino community, said people are upset with the threats against Astudillo, who is deeply respected for all the work he has done for the marginalized people in Toronto.
"What has seemed to be a faraway struggle in Venezuela has manifested itself violently here in Toronto," said Ramirez, a Chilean, who also admires Chavez's efforts to invest in social programs, healthcare and free education. "We can't allow people to impede on our rights of free speech."
---
March 17, 2014
NAFTA: 20 Years of Costs to Communities and the Environment
It's been 20 years since the North American Free Trade Agreement (NAFTA) changed the face of North America. In a special report, commissioned by the Sierra Club looks at the costs.
January 1, 1994 marked the first day of the implementation of the North American Free Trade Agreement (NAFTA). The pact ushered in a new era of trade agreements that went significantly beyond core trade issues to include regulations and public interest policies related to agriculture, investment, energy, food and consumer safety standards, labor, the environment, and more.

The 20th anniversary of NAFTA is a moment to reflect upon the agreement's harmful effect on North American communities and the environment. Although identifying all the causal effects of a single trade pact on the environment is difficult, the evidence documented in this report demonstrates that NAFTA has reduced the ability of governments to respond to environmental issues and it has empowered multinational corporations to challenge important environmental policies. In particular, this report finds that NAFTA:

• Facilitated the expansion of large-scale, export- oriented farming that relies heavily on fossil fuels, pesticides, and genetically modified organisms;

• Encouraged a boom in environmentally destructive mining activities in Mexico;

• Undermined Canada's ability to regulate its tar sands industry and locked the country into shipping large quantities of fossil fuels to the United States;

• Catalyzed economic growth in North American industries and manufacturing sectors while simultaneously failing to safeguard against the increase in air and water pollution associated with this growth; and

• Weakened domestic environmental safeguards by providing corporations with new legal avenues to challenge environmental policymaking.
-read the entire report (PDF 958kb)
---
March 17, 2014
APG Open Letter: Canada Must Call forDialogue Amid Unrest in Venezuela
America's Policy Group sends letter to John Baird
Dear Minister Baird,

The Americas' Policy Group (APG), composed of faith-based groups, development NGO's, trade unions, and solidarity organizations, is a working group of the Canadian Council for International Co-operation (CCIC). We are extremely concerned about the disruption of democratic order in the Bolivarian Republic of Venezuela, over the past two months, and the lack of clarity of Canada's position on this crisis.

We are concerned that the February 28 House of Commons resolution on unrest in Venezuela appears to hold the Venezuelan government solely responsible for the political violence and fails to address the fact that both government supporters and state security forces, as well as the opposition, have equally suffered fatalities, wounded and detained.

Those responsible for a large part of the violence are the opposition leaders, Leopoldo Lopez and Maria Corina Machado, who have been instigating the violent demonstrations with the clear aim of destabilising the democratically elected government. In the face of polarization and deep tensions in Venezuela, they have called for street protests which have provided cover for a small group of violent protestors to take to the streets, attacking – with rocks and Molotov cocktails – public institutions like the police headquarters and the Attorney General's office. Both López and Machado have refused to enter into any dialogue to peacefully resolve the conflict as called for by President Maduro.
On March 7, Canada found itself virtually isolated in the community of the Americas, as one of only three members of the Organization of American States (OAS) to vote against a resolution to support talks between the government of Venezuela and opposition forces (29 countries voted to support a peace dialogue). Whereas political forces in the United States are moving towards implementing economic sanctions against the Venezuelan Government, the governments of South America have taken a more balanced and respectful approach, forming a commission to attempt to mediate between the government and the opposition.
---
March 16, 2014
The 2014 Peoples' Social Forum: Organizing the fight against the Right
Linking our movements from coast to coast to coast
By Roger Rashi
Canadian Dimension
The first ever pan-Canadian social forum will be held this year in Ottawa from August 21 to 24. More than 10,000 participants from all over Canada are expected to come to the University of Ottawa to discuss ways and means of combating the austerity policies of the Harper regime and the provincial governments.
While we have been witness to often spirited resistance in many spaces and places — the Québec student strike, the indigenous Idle No More movement, and the rallies against the Enbridge and TransCanada pipelines — there has not yet been a united Canada-wide response. What are the prospects for a pan-Canadian fightback?
Québec and First Nations
The feeling in Québec is that such a unified counterattack is essential given the scale and severity of the Harper government's attacks both on social programs (Employment Insurance) and public services (Canada Post) as well as on the right to strike in sectors under federal jurisdiction. In fact, Québec social movements, from the trade union confederations (FTQ,CSN,CSQ) to the women's organizations (Fédération des femmes du Québec), housing (FRAPRU) and students (ASSÉ), have been spearheading plans for the forum for more than two years. The same is true of the Indigenous communities who are seeking to broaden support for their opposition to the Tar Sands and other mining projects that are destroying their ancestral lands. It is on this basis that a dynamic Indigenous caucus has been set up bringing together activists from Idle No More, the Indigenous Environmental Network and Québec Native Women.
This Québec-First Nations nexus is what is driving the 2014 Peoples' Forum.
---
March 12, 2014
U.S Coup-Masters And Venezuela
By Mark Talian
AllVoices.com

Mark Taliano attended a conference organized by Raul Burbano of Common Frontiers. Speakers included Pablo Vivanco from the Hugo Chavez peoples' defense front, Maria Victor Paez from the Circulo Bolivariano – Louis Riel, Beatrice Santiago from the Latin American and Caribbean solidarity network and Camilo Cahis from HOW campaign.
The narrative of the speakers is that Venezuela is currently undergoing a foreign-orchestrated coup.
What follows is an account of Venezuela's current problems as seen through the lens of the assembled speakers and the lens history.

Venezuela's President Hugo Chavez
The United States and Canada have plenty of reasons to be afraid of the (oil rich) Bolivarian Republic of Venezuela, so they are doing their utmost to address their perceived problem.
The US, in particular, fears that Venezuela's social democracy will set a dangerous precedent, and that, if allowed, other countries will follow suit. They also fear the status quo, wherein they are denied control over Venezuela's oil reserves (the world's largest).
The Bolivarian revolution itself, initiated by late president Hugo Chavez in 1998 and continuing with president Nicolas Maduro, is emblematic of the US' s "problem", even as the legitimacy of the revolution is beyond dispute.
Chavez, who died of cancer on Tuesday, March 5, 2013, won 18 of 19 contested elections in a country whose electoral system was described by former US president Jimmy Carter as "the best in the world".
An icon of the Bolivarian revolution, hundreds of thousands of Venezuelans mourned the loss of their leader at his funeral.
Though Maduro, Chavez's successor, isn't as popular, he still managed to win two national elections within the last year, including 76% of mayoralties two months ago.
Corporate media, a core agency of western propaganda, has demonized Chavez for years, and continues to ignore or minimize the matrix of converging impulses that make the Bolivarian revolution an on-going success, so a list of the revolution's stellar accomplishments will surprise many people who live in North America.
Some of the Bolivarian Revolution's accomplishments are listed below:
From 2006 to 2011, Venezuela moved up 7 spots in the United Nations' Human Development Index , to 73 out of 187 countries.
Unfortunately though, the U.S is notoriously persistent, and quite expert in the arts and sciences of illegal regime change. Consequently, they are engaging in destructive, anti-democratic efforts to unseat the Maduro government, by employing "soft coup" strategies --- for the benefit of the U.S, and the Venezuelan "elites".
The CIA, in partnership with local elites/oligarchs, is orchestrating the coup, as they most recently did in Honduras, and as they have done for decades throughout the world.
The objective of coups is to create destabilization in the target country which creates popular discontent, a precursor to illegal regime change. Tactics employed include these:
Economic destabilization
Media manipulation
Violent protests

Economic destabilization occurs when foodstuffs are hoarded, burned, or sent out of the country, as is currently happening. It also occurs when capital leaves the country (i.e the wealthy move their monies to other countries), when prices are falsely inflated, and when the power grid is disrupted.
Chavez's legacy lives on in the people of the Bolivarian Republic of Venezuela
Media is manipulated when peaceful protestors are depicted as being violent (through the use of misleading videos or doctored photos), when the number of opposition protestors is mischaracterized as being larger than it is, or in a myriad of other ways in which media messaging communicates false perceptions, as it does everywhere.
Opposition protests are always violent (in keeping with the coup formula), they have starting and ending times, and they occur in the wealthier areas, (because they do not have the support of the less affluent). Likewise, opposition protestors, sometimes armed, barricade streets, and occupy public spaces.
All of the destabilization tactics are designed to convey the impression that the government is incompetent, and that it needs to be changed. Ultimately, though, widespread support is needed, and in this respect, the opposition --- though well-funded by the U.S --- has so far failed.
If the coup does succeed, it will be another victory for graft and corruption over democracy and the rule of law.
---
March 11, 2014
Four Years After Submitting Evidence, Organizations Challenge Anti-Corruption Law as Ineffective
(Ottawa/Toronto) Four years ago, nine Canadian organizations filed a complaintrequesting that the RCMP investigate Blackfire Exploration and its Mexican subsidiary for bribery of a foreign public official under the Corruption of Foreign Public Officials Act ('the Act'). Today, nine groups* have reiterated their demand that charges be laid against Blackfire and its senior officials.
Documentation sent on March 10, 2010, demonstrated that Blackfire made payments totaling at least CDN $20,000 to Julio César Velásquez Calderón, then mayor of the municipality of Chicomuselo in the State of Chiapas, Mexico. The company operated an open-pit barite mine in Chicomuselo from 2007 to 2009, when it was closed on environmental grounds mere weeks after the murder of community activist Mariano Abarca in late November 2009.
In July 2011, the Canadian organizations welcomed news that the RCMP had raided the offices of Blackfire Exploration, investigating the allegation that Blackfire had paid mayor Calderón to "keep the peace and prevent local members of the community from taking up arms" against Blackfire's operation. But there has been no public movement on the investigation since then.
Overall, there have been relatively few prosecutions and convictions under the Act. The August, 2013, Ontario Superior Court of Justice conviction of former business executive Nazir Karigar was the first case under the Act to actually go to trial.
In 2011, the OECD criticized Canada's enforcement of the Act, and while commending increased RCMP investigation efforts, said that Canada "must urgently boost efforts to prosecute."
"The Karigar case relied almost entirely on documentary evidence, without requiring evidence from the foreign government or corporate decision makers," observes United Steelworkers lawyer Mark Rowlinson, adding, "This considerably lessens the legal hurdles to such prosecutions."
Rowlinson adds, "The Karigar case also establishes that jurisdiction should not prevent prosecution, and that it is only necessary to establish conspiracy to commit bribery, rather than proof the bribe was offered or paid – even though that's something we actually have in this case."
The Act was amended in June, 2013, to extend its jurisdictional reach and make it easier for Canadian authorities to launch prosecutions regardless of where the alleged bribery took place, among other things.
Based on these observations, the Canadian organizations consider that there is sufficient jurisdiction and more than enough circumstantial and documentary evidence against Blackfire and its senior officials to lay charges under the Act, and urge the RCMP and the Public Prosecution Service of Canada to proceed as expeditiously as possible.
For more information:
Mark Rowlinson, United Steelworkers, mrowlinson(at)usw.ca, (416) 544-5952
Jen Moore, Latin America Program Coordinator, MiningWatch Canada, jen(at)miningwatch.ca,
613-569-3439
Raul Burbano, Program Director, Common Frontiers – Canada, burbano(at)rogers.com, (416) 522-8615
Stuart Trew, Trade Campaigner, Council of Canadians, strew(at)canadians.org, (416) 979-0451

*The nine organizations include: Atlantic Regional Solidarity Network - Comité pour les droits humains en Amérique latine (CDHAL) - Common Frontiers-Canada - Council of Canadians - L'Entraide missionnaire - MiningWatch Canada - Coalition Québécoise Sur les impacts Socio-environnmentaux des transnationales en Amérique latine (QUISETAL) - Social Justice Committee of Montreal - United Steelworkers
---
March 6, 2014
Support for Peoples Social Forum continues to grow
From the Public Service Alliance of Canada
"The We Are All Affected campaign shares a common goal with the Peoples' Social Forum. By participating in the forum, our union will be able to share experiences and build resistance with people whose lives have been affected by austerity and cuts to public services.
-read more
Council of Canadians supports the Peoples Social Forum
"It is hoped that the social forum could bring together as many as 10,000 people from across the country. The Council of Canadians has been engaging in the planning process for this over the past several years..."
-read more
---
February 28, 2014
What is happening in Venezuela:
myths and facts
Organized by:
The Latin American and Caribbean Solidarity Network (LACSN), the Hands Off Venezuela Campaign, the Hugo Chavez Peoples Defense Front (HCPDF) and Common Frontiers
---
February 26, 2014
February Traumas: The Third Insurrectionary Moment of the Venezuelan Right
By Jeffery R. Webber and Susan Spronk
"Today the counter-revolutionary Right is reactivating itself," according to long-time Venezuelan revolutionary Roland Denis, "taking advantage of the profound deterioration that this slow revolutionary process is suffering. Its reappearance and interlacing with 'democratic civil society' is a clear signal to the popular movement that we either convert this moment into a creative and reactivating crisis of the collective revolutionary will, or we bid farewell to this beautiful and traumatic history that we have built over the last 25 years."
For seasoned observers of Venezuelan politics, the events of the past week are a disheartening repetition of opposition-led resistance efforts that have yet again sought to undermine political stability in the country. This is not the first time in recent history that the opposition has resorted to "extra-parliamentary" tactics, including violence, to push their political agenda. Nor is it the first time that the mainstream media has provided generous airtime to opposition demonstrations in Caracas, repeating the sob stories of upper class Venezuelans "repressed" by the government because they cannot find toilet paper on the store shelves, or in a more laughable episode, ingredients to bake a cake.
As with most situations in which there has been a violent conflict over who controls the reins of the state, it is possible to find fault on both sides. As a February 22nd report by the Centre for Economic Policy Research notes, "the political allegiances" of the victims of the violence so far "and their causes of death are varied." Of the eight deaths, two of the responsible assailants might be linked to the government, including a SEBIM agent (the Venezuelan intelligence service) who was not authorized to be at the protest. The head of SEBIM was subsequently fired and there is a warrant out for arrest of the agents who fired the shots.
---
February 21, 2014
Raul Burbano interview with Radio Canada International
CF's Director, Raul Burbano, was interviewed by Radio Canada International's(RCI) Pablo Gómez Barrios about the organization's activities in Honduras.
To listen to the interview, go the RCI website and click the Listen button below the video..
---
February 20, 2014
Campo devastado
Desaparecen millones de empleos tras la entrada en vigor del tratado
Se contrae el PIB del sector; el país, tercer importador mundial de alimentos
Antonio Núñez López
Matilde Pérez U.
Periódico La Jornada

En las dos décadas del Tratado de Libre Comercio de América del Norte (TLCAN) el resultado para el campo es devastador: se perdieron 4.9 millones de empleos en la agricultura familiar, 6 millones de habitantes del sector rural migraron, el PIB agropecuario pasó de 5 por ciento a 1.5 y México se convirtió en el tercer importador mundial de alimentos, destacan evaluaciones de 15 agrupaciones nacionales y de Estados Unidos y Canadá.
En el documento Mitos del TLCAN después de 20 años, las agrupaciones –entre ellas Red de Comercio Justo, Fronteras Comunes, Alianza Justicia Global, Red Mexicana de Afectados por la Minería (Rema), Asociación Nacional de Empresas Comercializadoras de Productores del Campo y Red Mexicana de Acción Frente al Libre Comercio– destacaron que subieron los precios de los alimentos al consumidor y paralelamente aumentó el consumo de comida chatarra.
El mercado agroalimentario mexicano es dominado por 30 trasnacionales y sólo 10 por ciento de los agricultores del país son exitosos, mientras el déficit comercial es de 119 mil 112 millones de dólares, apuntaron.
El país también se convirtió en importador de plaguicidas para responder al modelo agroexportador de hortalizas; compró en el exterior 949 mil toneladas de esos productos. Antes del tratado se gastaban 57 millones de dólares en dichas adquisiciones, y ahora 206 millones, comentó Alejandro Villamar, integrante de Rema. Dogmas y prácticas del TLCAN han sido como una camisa de fuerza mercantilista que asfixia a nuestra sociedad y la naturaleza.
El tratado, agregaron las agrupaciones sociales, "representó el abandono de la producción nacional de alimentos a favor de las importaciones –se compra el 42 por ciento de éstos–, lo que se tradujo en la caída del ingreso de los campesinos y aumento de la desigualdad".
En una carta que enviaron a los presidente de México, Enrique Peña Nieto, y de Estados Unidos, Barack Obama, así como al primer ministro de Canadá, Stephen Harper, destacaron que el libre comercio ha sido negativo para la mayoría de los habitantes de las tres naciones, pues se han hecho a un lado los derechos humanos y no hay un análisis profundo de los impactos sociales, culturales y ambientales; han predominado los intereses de un puñado de corporaciones.
Es momento de hacer a un lado la retórica sobre los beneficios del libre comercio y poner en el centro del escenario el bienestar de las poblaciones, pues el libre comercio ha implicado la desaparición del empleo de calidad, la precarización del trabajo, la degradación ambiental, el deterioro de la cohesión social y el aumento de la violencia, subrayaron.
La pérdida de soberanía alimentaria, el despojo de los recursos naturales por las empresas mineras, la excesiva concentración de la riqueza y el trastorno en el equilibrio el poder son ejemplo de que el modelo de libre comercio no funciona para los intereses de la mayoría, expresaron.
---
February 18, 2014
Building solidarity with Hondurans – Exposing Oppressive Canadian Investment
Feb 21, 2014 7 – 9pm
Beit Zatoun – 612 Markham St, Toronto
Light refreshments served
Join us for a night of discussion, reflection and video screening about Canada's role in the current social, political and human rights crisis facing Hondurans. Elections observers who witnessed the recent presidential elections will share their experiences and findings and report back on the messages heard by impacted communities they visited. Join us and join the call for solidarity with Honduras!
A raffle will be held in support of MISN and sales of BeeHive collective posters will go towards Bertha Oliva of the Committee of Relatives of the Detained and Disappeared in Honduras (COFADEH) and their upcoming Canadian tour.
Moderator:
Raul Burbano, Common Frontiers Program Director
Guest speakers (members of delegation):
Bob Lovelace – Member or the delegation, and former chief of the Ardoch Algonquin First Nations.
Monica Gutierrez, community organizer with Mining Injustice Solidarity Network
and more mining solidarity special guests to be confirmed shortly!
More information:
The Canada-Handuras FTA was signed on Nov 5, 2013 "amid political repression, increasing militarization, and controversial Canadian investment in the Central American nation… Controversial Canadian mining, sweatshop, and tourism sectors also stand to benefit from investment protection measures" (Sandra Cuffe, Upside Down World)
In Nov, 2013, a Canadian-based delegation of elections observers met with communities and groups impacted by Canadian investment in mining, maquiladoras and the mega tourism sector. Organized communities and human rights defenders have sent a clear message that the current situation in Honduras is one of increasing oppression, impunity and human rights violations. Many face perilous conditions, such as Bertha Oliva, General Coordinator of COFADEH who has said: "I think we live in a dictatorship without precedents, worse than in the 80′s".
---
February 14, 2014
Canadian Organizations Condemn Gold Company's Lawsuit Against Costa Rica
Source: Blue Planet Project - Common Frontiers - Council of Canadians - MiningWatch Canada
(Ottawa/Toronto) Canadian organizations are disappointed that Calgary-based Infinito Gold has lodged a long-threatened investor-state lawsuit against the Costa Rican government in the World Bank's International Centre for Settlement of Investment Disputes (ICSID). The company is contesting Costa Rica's legitimate rejection of the proposed Crucitas open-pit gold mine. The groups once again urge Infinito management to drop the unwarranted legal action, accept the will of the Costa Rican people who rejected the mine, recognize the country's 2010 ban on open-pit mining, and leave the country.
"It's outrageous that this firm can't pay its legal fees owing to two critics that it tried to sue for defamation in Costa Rica, but has the funds to sue the country. Public opinion polls in Costa Rica have shown that a majority of the population opposes mining and the Costa Rican court has repeatedly found against Infinito's project. The company should demonstrate some respect and walk away," remarks Jen Moore, Latin America Program Coordinator with MiningWatch Canada.
Although Infinito has lowered its compensation demands from $1-billion to $94 million, the amount of their stated investments in the Crucitas project, even this is unreasonable: Infinito owes $200,000 in legal costs to the professors it tried to sue for defamation, the initial approval for the Crucitas project was declared illegal, and it should not be up to the public in any country to insure mining companies against losses.
---
February 13, 2014
For Immediate Release
Canada-Honduras FTA will deepen conflict
Updated Feb 20, 2014
Civil society organizations from Canada and Quebec are concerned that the Canada-Honduras Free Trade Agreement (FTA) currently being debated in the House of Commons will further undermine human rights and democracy in Honduras. The debate began days after the inauguration of Juan Orlando Hernandez following highly contested presidential elections. The elections were fraught with irregularities as well as violence, and deemed fraudulent by most independent international observers. The proposed legislation sends the message that Canada rewards illegitimate governments as long as they serve Canadian economic interests.
The bilateral trade deal was signed on November 5th, 2013, in the lead up to the presidential election, despite wide-spread opposition and mounting evidence to suggest that the deal will exacerbate the social and human rights crisis. Since the 2009 military coup against democratically-elected President Manuel Zelaya, violence and repression have reached an all-time high. Human rights defenders, women's rights activists, members of the LGBTQ (lesbian, gay, trans and queer) community, the Garifuna, Indigenous people, union leaders, farmers and journalists are being systematically threatened or killed.
-read entire release -en français -en español
---
February 11, 2014
Parliamentarians call for the release of Trans-Pacific Partnership text to enable scrutiny and debate
Senior legislators from Australia, Canada, Japan, Malaysia, Mexico, New Zealand and Peru today issued a joint letter seeking the release of the text of the Trans-Pacific Partnership Agreement (TPP) before it is signed, to enable detailed scrutiny and public debate. The signatories include political party leaders and legislators who currently or previously held senior political office in their national governments.
In 2009 the parties to the negotiations agreed that the text for the agreement would not be released until the negotiations are concluded, and all documents other than the text will be held in confidence until four years after the agreement comes into force, or the last round of negotiations if the agreement is not concluded.
The joint letter of legislators states:
"We, the undersigned legislators from countries involved in the negotiation of the Trans-Pacific Partnership Agreement, call on the parties to the negotiation to publish the draft text of the agreement before any final agreement is signed with sufficient time to enable effective legislative scrutiny and public debate."
Oxfam and Article 19, the global organisations who jointly published the letter today, are amongst many NGOs who have raised concerns about transparency and accountability with negotiators.
Legislators from the United States of America, Mexico, Australia and Chile have also earlier made similar statements seeking release of the text before it is signed.
The Ministers of Trade from the twelve participating countries in negotiations for the Trans-Pacific Partnership Agreement will convene in Singapore from 22 to 25 February 2014. According to the parties the negotiations are entering their final stages.
The letter and its list of signatories, along with the links to similar statements, can be accessed at www.tppmpsfortransparency.org.
---
February 6, 2014
Maria Luisa Regalado & CODEMUH interview
The Honduran women's collective (Codemuh) highlights the struggles of Honduran women who work in clothing and textile sweatshops owned by transnational corporations like Montreal -based Gildan Activewear.
Common Frontiers organized a human rights and elections observation mission to Honduras from November 17-27th 2013. The goal was to see first-hand how Canada's investment is impacting human, labour, environmental and democratic rights in Honduras, and support the electoral and human rights process during the presidential elections. The mission was concerned with the Canadian government's focus on increasing corporate profits via trade and investment amidst a political and human rights crisis in Honduras. The work focused on three major sectors with strong Canadian interests; Maquiladora, Mega Tourism, and Mining.
---
February 2, 2014
Toronto activists oppose Trans-Pacific Partnership and corporate globalization
By John Bonnar
Rabble.ca
He called it the most nontransparent trade negotiation in Canadian history.
"Here in Canada, how much do we know about the Trans-Pacific Partnership," said Stuart Trew, trade campaigner with the Council of Canadians, standing outside the Mexican Consulate in downtown Toronto on Friday afternoon.
"Almost nothing because this government refuses to show people what's in this deal. Refuses to even show the deal to politicians in Ottawa. Refuses to even show them an impact assessment."
According to the Electronic Frontier Foundations (EFF), "The Trans-Pacific Partnership (TPP) is a secretive, multi-national trade agreement that threatens to extend restrictive intellectual property (IP) laws across the globe and rewrite international rules on its enforcement.."
The twelve nations currently negotiating the TPP are the US, Japan, Australia, Peru, Malaysia, Vietnam, New Zealand, Chile, Singapore, Canada, Mexico, and Brunei Darussalam.
"Leaked draft texts of the agreement show that the IP chapter would have extensive negative ramifications for users' freedom of speech, right to privacy and due process, and hinder peoples' abilities to innovate," said EFF on its website."
"The entire process has shut out multi-stakeholder participation and is shrouded in secrecy."
For not only the TPP undertaking. Other trade deals the Canadian government is involved have been negotiated behind closed doors too.
On Friday, Toronto activists marched between the Mexican and U.S. consulates to protest the proposed TPP trade agreement and NAFTA, one of 45 similar actions across North America and the world as part of an Intercontinental Day of Action against corporate globalization.
-read complete post on rabble.ca
Toronto protesters march against secret trade deal
---
February 1, 2014
TriNational Multisectoral Forum
20 Years of NAFTA: Enough Free Trade! No the TTP!
Joint Declaration
On the 20th Anniversary of the signing of NAFTA, labor unions, farmers, women, environmentalists, and human rights organizations from México, the United States, Canada and Quebec came together in a Tri-national Forum in Mexico City. We have assessed the impact on human, environmental, labor, social, and cultural rights. We conclude that the benefits of NAFTA were exaggerated to sell the agreement to the public. The promises made were not fulfilled, on the contrary, we have seen a rise in inequality, impoverishment of the vast majority of the population, loss of employment, job insecurity, environmental degradation, deterioration of social cohesion and increased violence.
It is clear that the economic and labor policies imposed by trade agreements lead to increasingly widespread exploitation and commercialization of public goods and ecosystems, as well as to a deepening commodification of women´s bodies.   This happens by way of the privatization of public services, the weakening of social security systems and its disproportionately negative impact on women who assume the responsibilities of the care economy, and through the closure of thousands of factories, eliminating quality jobs  excluding thousands of people, in particular young people, from the right to collective bargaining.  It also happens by the increased control by transnational corporations over sectors such as agriculture, food, energy, extractives and fishing. Community resistance to these attacks has led to the repression of democratic unions and social movements, the violation of indigenous rights, the criminalization of protest, and militarization.
NAFTA has altered the balance of power in favor of transnational corporations through Chapter 11 investment protection. This includes investor-to-state dispute settlement, which gives corporations the chance to defy democratic laws in special courts with extraterritorial jurisdiction. This leaves communities helpless and environmental conservation vulnerable. Increased corporate control has failed to generate shared prosperity for the community, but has enriched transnational enterprises. Particularly in Mexico (and Central America under CAFTA), it has increased the informal economy, resulting in more poverty and forcing millions of people to seek work in the north, where they encounter discrimination.
Currently, the failed model of NAFTA is being replicated in new agreements, specifically the Trans-Pacific Strategic Partnership (also known as TTP), in order to further expand the power of transnational corporations and impose greater restrictions on government regulations. These treaties are being negotiated in secret, behind citizens' backs.
The organizations gathered at this forum condemn the NAFTA trade model and demand its renegotiation with greater transparency and equity among our communities. We also demand:
That all trade negotiations be opened to civil society participation, which implies prior publication of the texts, and the construction of mechanisms for information sharing, social participation and deliberation, while avoiding the imposition of fast track.
The removal of investor-to-state dispute settlement to strengthen governments' ability to protect social, environmental and labor rights, particularly for migrants.
That effective mechanisms to protect human, labor, and environmental rights are included in the texts of trade agreements, with sanctions equivalent to those for violation of commercial provisions.
We demand the supremacy of human rights over corporate privileges. We need to develop new models of cooperation and international exchange based on justice, solidarity and the highest ecological standards. Therefore, we reject the current trade model reflected in the attempt to impose the TTP.
We are committed to strengthening our joint movements at the tri-sectoral and national level, to intensifying the fight in North America against this trade model, and to promoting alternative models of integration.
We call on organizations and the general public to mobilize against the Three Amigos summit in Toluca on February 19, 2014, to express opposition to the TTP and other initiatives that deepen the prevailing model of free trade.
Approved on January 31, 2014 in Mexico City, DF, by the participants in this forum and delegates from the following organizations:
International:
IndustriALL
UNI Global Union
Canada:
Common Frontiers Canada
Congrès du travail du Canada (CTC)
Conseil des Canadiens
National Union of Public and General Employees (NUPGE)
Réseau pour un commerce juste / Trade Justice Network (TJN)
Réseau de solidarité dans la maquila / Maquila Solidarity Network (MSN)
Syndicat canadien de la fonction publique (SCFP)
UNIFOR
United Steelworkers (USW Canada)
USW-Canada, Fonds humanitaire
Quebec
Réseau québécois sur l'intégration continentale (RQIC)
Confédération des syndicats nationaux (CSN)
Conseil central du Montréal métropolitain - CSN
Centrale des syndicats démocratiques (CSD)
Fédération des travailleurs et travailleuses du Québec (FTQ)
Fédération des femmes du Québec(FFQ) / Marche mondiale des femmes
Coalition québécoise sur les impacts socio-environnementaux des entreprises transnationales en Amérique Latine –QUISETAL
Le Syndicat des Métallos (FTQ)
Amis de la Terre - Québec / Réseau québécois des groupes écologistes (RQGE)
ATTAC-Québec (Association pour la taxation des transactions financières et l'action citoyenne)
United States
AFL-CIO
United Electrical, Radio and Machine Workers of America (UE)
National Farmers Union
Institute for Policy Studies (IPS), Global Economy Project
Institute on Agriculture and Trade Policy (IATP)
Académicos de Universidad de Santa Barbara en los Angeles
Académicos de Universidad de California en los Angeles
Peru
Mexico
Red Méxicana de Acción Frente al Libre Comercio (RMALC)
Campaña trabajo Digno Dereco de las Mujeres
Red Maíz
COMDA
Red de Productores Sociales de Vivienda
Red Jaliciense de Derechos Humanos
Consejo de Pueblos del Estado de Morelos
ANEC
Totikes ANEC
Frente Democrático Campesino Chihuahua
UNORCA
ARIC  Campeche
CNPA-Ecat.
Bastión del Granero
CAMPO
Carnaval del Maíz
Productores Rurales del Bajío
El Café de Todos, SCRL
Semillas de Vida
Unión Nacional de Trabajadores (UNT)
Vicepresidencia de Equidad de Genero de la UNT
Frente Auténtico del Trabajo (FAT)
Sindicato Mexicano de Electricistas (SME)
Sindicato de Trabajadores Mineros
Sindicato de trabajadores de la UNAM
Sindicato de Telefonistas de la Republica Mexicana
SITIEMS
Sindicato Nacional de Trabajadores de General Tire de México
UNTYPP
SITIEMS
STIMAHCS – FAT
SNTHIA – FAT
STRACC – FAT
Sind Nal. De Trab. De General Tire de Mexico
CACEHC Trabajadoras del Hogar
UPREZ
Sociedad Organizada en Lucha (SOL)
Unión Popular Valle Gómez, A.C.
Alianza Nacional de Cooperativas (ALCONA)
Sociedad Cooperativa El Zapote
Sociedad Cooperativa Las Vegas
Comisión Cuenca ríos Ameca-meca y Compañía, A.C.
Comisión de Bosques, Selvas y Producción Orgánica
Frente Amplio Opositor a la Minera San Xavier (FAO)-REMA
San José del Progreso, Oaxaca-REMA
Consejo de Ejidos y Comunidades Opositores a la Presa la Parota  (CECOP)
Alianza Mexicana por la Autodeterminación de los Pueblos (AMAP)
RAPAM, A.C.
RASA, S.C.
RASA-Guerrero
Centro Miguel Agustín Pro Juárez (Centro PRODH)
Red de Genero y Economia REDGE
Cleofas Cedillo, SPR de R.L.
DECA Equipo Pueblo, A.C. – Espacio DESC
Ebano
FIAN México – Espacio DESC
Fronteras Comunes México
Grupo Tacuba
RedccamARIC
SIDEC
Boca de Polen, A.C.
Brújula Metropolitana
SPR H. Ameyolt
AII Mexicana
CILAS
Seminario Permanente de Estudios Chichanos y de Fronteras (SPECHF)
Academicos  de la UACM.
Académicos de la UAM-I,
Académicos de la UAM-X,
Acádemicos de la La ENAH
Testigos por la Paz
And many more to come…
-Download declaration in English -en español -en français
---
January 31, 2014
Two upcoming events to support Indigenous peoples in Colombia
---
---
January 26, 2014
NAFTA Oil Sharing Clause Bites Deeper and Deeper
By John Dillon
KAIROS: Canadian Ecumenical Justice Initiatives

Twenty-five years ago when I first scrutinized the text of the Canada-U.S. Free Trade Agreement (FTA) I warned that the proportionality clause in the energy chapter posed a grave danger to Canadian energy sovereignty. When invoked it would require Canada to make available to U. S. importers the same proportion of our total oil or gas supply as we sold them over the previous three years. That same clause was later incorporated into NAFTA. Mexico wisely negotiated an exemption.
In 2008 I decided to test my concern that the proportionality obligation could actually lead to energy shortages in Canada. In a study entitled Over a Barrel, co- published by the CCPA and the Parkland Institute, Gordon Laxer and I explored three scenarios concerning what would happen if the clause were invoked.
Using data from Statistics Canada for the years 2004-2006, I calculated that our oil exports to the U.S. over that period were equivalent to 47.5% of total supply (defined as production plus imports). These exports were equivalent to 64.2% of Canadian oil production over that period. One scenario we explored involved what would happen if Canada decided to cut oil production by 10% for conservation purposes, as then advocated by the David Suzuki Foundation. I calculated that if the U.S. were to insist on taking 47.5% of the remaining supply, there would be an eight million barrel shortfall in oil available to meet domestic demand in 2007. This would be equivalent to four days of Canadian needs.
Each year since as new data becomes available I update the numbers first published in Over a Barrel. On the 25th anniversary of the FTA I decided to look back to what the proportionality obligation would have been in 1989, the year the FTA came into effect. I have also examined the latest data available for the years 2010-2012. The calculations reveal an unrelenting increase in the obligation to make Canadian oil available for sale to U.S. buyers year after year. I found that the proportional sharing obligation has risen from 30.8% of total supply in 1989 to 57.3% in 2013. In other words the proportionality obligation has risen by an average of 1.1 percentage points each year since the FTA came into effect.
Recalibrated in terms of Canadian oil production rather than total supply the proportional sharing obligation has risen from 38.3% in 1989 to 74.5% in 2013, an average increase of 1.5 percentage points each year.
Repeating the hypothetical scenario explored in Over a Barrel, I find that had we attempted to put aside 10% of our oil production in 2013 and had U.S. importers invoked the proportionality clause to demand 57.3% of the remaining supply, the shortfall for Canadians would have been 83 million barrels, equivalent to 48 days of domestic demand.
For natural gas the situation is somewhat different given the boom in shale gas production in the U.S. Canadian natural gas exports to the U.S. fell after 2007 while imports rose. As a result the proportional sharing obligation also fell after 2007. In 1989 the sharing obligation for gas was 32.7% of total supply. It peaked at 51.6% in 2008 before falling back to 44.7% in 2013.
But this is only part of the story. When I worked through our second scenario involving a decision to set aside 10% of Canadian gas production for use as a feedstock for the petrochemical industry, I found that the potential shortfall in 2013 was the same as it was in 2007 – equivalent to 37 days of domestic demand. The explanation appears to be that while gas exports to the US have fallen, imports of shale gas into Canada have risen even more. Meanwhile domestic production has also fallen. These changes in effect cancel each other out leaving the calculation of a potential domestic shortfall unchanged.
Given the increase in U.S. oil and gas production from the hydraulic fracturing (fracking) of tight oil and shale formations, the U.S. has reduced its dependence on petroleum imports while remaining the world's largest net importer of oil. While the International Energy Agency projects that the U.S. will become the largest world oil producer by 2017, the IEA predicts the U.S. will remain dependent on imported oil through to 2035. There are good reasons to be sceptical that the fracking boom will continue. Geoscientist David Hughes has convinvingly documented the falling productivity of fracked wells. Moreover citizens in many states are mobilizing to prevent fracking operations from contaminating the water they drink and the air they breathe.
In the short run it appears there is little danger that the proportional sharing clause will be invoked as neither the federal government nor the producing provinces are inclined to undertake aggressive conservation measures, let alone meaningful action to halt climate change. However, in Over a Barrel we considered a third scenario – a petroleum shortage in Eastern Canada which imports two-thirds of its oil. In the event of a global supply disruption as occurred during the OPEC embargo of 1973 and in the absence of a Canadian strategic oil reserve, Canada would need to redirect Western crude from export markets to meet Eastern Canadian needs. This would no doubt cause the U.S. to invoke the proportional sharing obligation, especially if its imports from overseas were also threatened.
In the event of another global crisis the slow but steady increase in our obligation under the proportionality clause could suddenly become a grave danger to our security. The proportionality clause remains a hidden danger to Canadian energy sovereignty. Twenty-five years later the case for eliminating it is as urgent as ever.
John Diillon is the Ecological Economy Coordinator, for KAIROS: Canadian Ecumenical Justice Initiatives
---
January 23, 2014
Mexico: TLCAN 20 años + TPP / NAFTA+20 and TPP: Cartel para email

---
January 22, 2014
NO MORE NAFTAs! 20 YEARS IS ENOUGH!
Toronto March in Solidarity with the Inter-Continental Day of Action against the TPP & Corporate Globalization
Torontonians join the call to action with communities throughout Mexico, Canada and the United States, to say "ENOUGH!" to the North American Free Trade Agreement (NAFTA) and the pending Trans-Pacific Partnership (TPP).

When: Friday January 31, 2014
Where: Mexican Consulate, 11 King St W @ 12:30 pm
What: Silent march from the Mexican consulate to the U.S. consulate
Why: January 2014 marks the twenty-year anniversary of the NAFTA, a pact that has had devastating consequences for working families, small farmers, indigenous peoples and the environment in all three countries and beyond. The pending TPP deal has been described as "NAFTA on Steroids."

For more detail see Facebook page or website

Sponsored by Council of Canadians, Common Frontiers ,Greater Toronto Workers' Assembly, Mining Injustice Solidarity Network, and Trade Justice Network.
TPP Day of Action
North America & Beyond
January 31, 2014
---
January 21, 2014
Why we need the Peoples' Social Forum
By Derek O'Keefe
Canadian Dimension
Building toward the Peoples' Social Forum
There are many important ongoing political struggles that demand our attention and action in Canada. In some cases, the resistance is even dynamic and inspiring — like the Indigenous-led wall of opposition to expanding the tar sands and building new export pipeline mega-projects.
But we need to be honest: there is a void in this country, the political silences are deafening. Beyond some very marginal formations and small publications, the left is missing. It's just not there, organizationally. It's barely there in the discussion at all, outside of a few major centres.
I know that this absence is part of a long-term trend, but I think we're in a new phase now with the NDP acting more than ever as a "government-in-waiting." With their parliamentary caucus more muzzled — or self-censoring — than ever, there is no political expression for many of the basic demands of the Left.
-read this entire post on the Canadian Dimension website
---
January 20, 2014
In Honduras: Tourism, Repression and Corruption vs. the Garifuna People
Along the northern Caribbean coast of Honduras, Indigenous Garifuna people are defending their lands, culture and way of life, against the illegal and repressive incursion of tourism investors, including those of the Canadian "Porn King" (Randy Jorgensen), who are partnering with corrupted Honduran officials in power since the 2009 military coup ousted Honduras' democratic government.
"The earth is our Mother; the sea is our Father"
(Alfredo Lopez, OFRANEH)
Please view this 5 minute interview by Common Frontiers with Alfredo Lopez of the OFRANEH (Fraternal Organization of Black and Garifuna Peoples of Honduras). Alfredo sets out a series of abuses and violations that Randy Jorgensen is engaged in, violating collective rights of the Garifuna people.
---
January 19, 2014
Spying, Extractive Industries, Governments and Resistance: Tales from Two Whistle Blowers
By Judith Marshall
Originally published by the Canadian Centre for Policy Alternatives on December 1, 2013
I spy, you spy…. In the world of big mining and big oil companies, it would seem that everybody spies.
Most Canadians were profoundly shocked to learn that the Canadian government had been spying on the Ministry of Mining and Energy in Brazil. Canada's usually low profile spying agency, Communications Security Establishment Canada (CSEC) was dramatically outed by documents from Edward Snowden, the now famous whistle blower from the US National Security Agency, NSA. Brazil's Globo TV network revealed the Canadian spying story on its flagship investigative programme, Fantastico on October 6.
It wasn't only CSEC that carried out the spying. The UK Guardian which has been publishing the Snowden documents has also documented how CSEC then shared the data it collected with Canada's counterpart spying agencies in the US, the UK, Australia and New Zealand, know as the Five Eyes.
The Fantastico exposure included slides from a CSEC power point presentation to a meeting of the Five Eyes last June. CSEC outlined in detail how they had used a programme called Olympia to break through the Brazilian Ministry's encryption. The information on Brazil was gleaned through building a detailed map of the Ministry's communications and carrying out a mixture of monitoring emails and electronic communications as well as eavesdropping on telephone conversations, all part of the "metadata mining' approach now in vogue in the world of espionage.
Equally problematic were the revelations that this and other information gleaned from CSEC's spying activities over the years have been shared on a regular basis with private mining and energy companies in Canada. The heavily redacted documents that have been leaked include records of regular meetings involving Canadian government leaders, government agencies and corporate representatives, granted security clearances for the occasions.
The Guardian revealed that these meetings have been conducted twice annually since 2005 involving federal ministries, spy and police agencies such as CSIS, CSEC and the RCMP and representatives from scores of mining and oil companies.
In 2007, the then Natural Resources minister, Gary Lunn, mentioned at an industry gathering, "we have sponsored over 200 industry representatives in obtaining Secret Level II security clearance. This enables us to share information with industry and their associations so that the appropriate security enhancement measures can be adopted."
The story of Canadian government spying on Brazil has been well documented by major Canadian news agencies including stories by much touted Globe and Mail reporter, Stephanie Nolen, now based in Brazil. The September issue of CCPA Monitor reported on the NSA spying activities while in its November issue, Asad Ismi wrote a lengthy and thought-provoking analysis of Canadian government spying. It included not only the spying on Brazil but the overly intimate government-corporate links and the spying carried out on Canadian civil society activists concerned about mining, from rights and environmental activists to Aboriginals defending sovereignty.
In the world of extractive sector corporations and their megaprojects, however, governments are not the only spies. Corporations also spy, according to the startling revelations made recently by a whistleblower who had spent eight years spying for Brazil's mining giant, Vale. Canadian Vale employees and United Steel Workers (USW) union staff who are members of the International Network of People Affected by Vale, were shocked to find themselves named by the Vale whistleblower.
The tales of this whistleblower also need to be told in Canada.
-read the entire post at policyalternatives.ca
---
January 8, 2014
Le vent doit tourner, dit la CSN
La dernière année se sera une fois de plus déroulée à l'enseigne du néolibéralisme avec ses politiques d'austérité et la recherche d'une plus grande flexibilité du marché du travail par le patronat, à l'encontre des intérêts des travailleuses, des travailleurs et des communautés. Tel est le bilan fait par la Confédération des syndicats nationaux (CSN) de 2013, qui signale toutefois que la mobilisation était au rendez-vous pour parer aux attaques lancées et offrir des avenues différentes.
Selon la CSN, les politiques d'austérité et les pratiques patronales de s'en prendre aux conditions de travail et à la capacité des travailleurs de s'organiser pour améliorer leur sort, notamment par le recours accru à la sous-traitance et aux agences de placement de personnel, contribuent à affaiblir l'opposition et participent à la domination du discours de la droite.
« La tournée que nous avons amorcée l'automne dernier auprès de nos membres est justement une contribution pour en finir avec cette "récession sociale" et réhabiliter un discours revendicateur au plan politique, a mentionné le président de la CSN, Jacques Létourneau, lors de la traditionnelle conférence de presse de début d'année de la centrale syndicale. À certains commentateurs qui souhaitent que nous réduisions notre rôle à la négociation collective, je dis ceci : Nous n'avons jamais restreint notre action aux limites de la convention collective et nous ne le ferons pas. La CSN continuera en 2014 de promouvoir plus de démocratie, un réel partage de la richesse, des politiques sociales conséquentes, une meilleure qualité de vie. Le vent doit tourner au Québec et au Canada. »
---
January 7, 2014
Australia's Rejection of Investor-State, from AUSFTA to the Gillard Government's Trade Policy and the implications for Canada
By Janet M Eaton, PhD

Introduction
This paper places the Australian Labor government's 2011 policy of Investor -State rejection within the context of the escalating criticism of Investor-State Agreements [ISAs] and the extent to which they are being revisited and rejected by a growing number of countries. It offers insight into how and why the former Labor government of Australia came to its decision to reject Investor -State in its 2011 Trade Policy Statement while considering whether Australia's policy of Investor-State rejection should be an option for Canada.
During the writing of this paper an election in Australia resulted in a change of government with the Labor government of Prime Minister Julia Gillard, that had rejected Investor-State, being defeated by the Conservatives under Tony Abbot.  As regards the impact on Investor-State, the new trade minister, Andrew Robb, was quoted after the election as saying "foreign corporations wanting to sue Australian governments will have to cool their heels." He also noted that Australia's negotiating position on the Trans Pacific Partnership Agreement [TPPA] would remain the same despite an election commitment to overturn the blanket prohibition on ''investor-state dispute settlement'' provisions.
At the same time a post-election article in Australia's GlobalMail, Abbott: Open for Business and Investor State Lawsuits revealed that the Conservative- led Coalition's recently released trade policy included a commitment to "remaining open to utilising Investor-State Dispute Settlement (ISDS) clauses as part of Australia's negotiating position" in future trade deals.
---
January 6, 2014
New Year's Resolution: In 2014, B.C. can stop Enbridge – and help defeat Harper
By Derrick O'Keefe
thelasource.com
In so many ways, 2013 was tough on everyone in B.C. who cares about social justice and the environment. The surprise election victory by Christy Clark and the BC Liberals, alone, is enough to make me happy to put that year behind us. Adding insult to injury, the National Energy Board (NEB) wrapped up the year by announcing, the week before Christmas, conditional approval of the Enbridge Northern Gateway pipeline.
The NEB ruling – though not unexpected – was a big holiday season lump of bitumen for British Columbians, who in their significant majority oppose this reckless export mega-project.
Enbridge has arguably generated more serious opposition across the board – from First Nations to fishers, from the north to the south, coast to interior – than anything in this province for decades. You have to go back to Clayoquot Sound in the early 1990s, or maybe even the Solidarity coalition of 1983, to find such an organized and militant protest movement.
That's the silver lining to the NEB ruling. The sheer scale of the polarization around this issue and the high stakes of this debate, put B.C. in a position to change the national political scene. It's worth remembering that the B.C. government of Christy Clark formally opposed Enbridge in their submission to the NEB. So while Clark's political disposition is to support the oil and gas industry, she has to tread carefully. How the public discussion about Enbridge plays out has implications not just for the other big tar sands pipeline proposal, Kinder Morgan's, but also for Clark's efforts to push the massive expansion of fracking and LNG exports.
---
For Previous Current Events items, visit the Archives
(2013 Archive) (2012 Archive) (2011 Archive) (2010 Archive) (2009 Archive) (2008 Archive) (2007 Archive) (2006 Archive) (2005 Archive)